Stuart Millar, TheCostaRicaNews.com.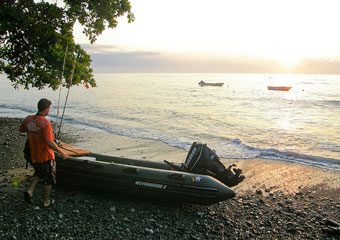 It was early, but beautiful when we met up with Lucas Senig, our guide, to go fishing from Cabuya, a sleepy little coastal village and the last habitation before the southern most tip of the Nicoya Peninsula. The new sun lit up the clouds and cast a reflection across the near calm ocean. High tide at dawn made it the ideal time and temperature to set off.
Lucas and his crew of one made the last preparations to the boat – a Zodiac style inflatable boat with an outboard motor. This is where some, maybe those like my companion Andrew who has hundreds of fishing trips behind him, may have found it a little disconcerting that Lucas was finishing blowing up the boat with a hand pump. I, on the other hand, have almost no experience with fishing trips and assumed this was normal. With the cooler full of water and my PB&J sandwiches (I figured I should have a layer in my stomach in case I got nauseous), we waded in to the ocean and clambered in to the boat. We headed straight out to sea and then bore right towards the tip of the Nicoya Peninsula. Holding on to the rope as I sat on the side of the boat, I scanned the horizon. I got side tracked looking for dolphins jumping or whales breaching. Nothing. Luke explained what to look for in order to hook our first fish – the sign of a current, bait fish disturbing the water on the surface, or even the occasional piece of paper or litter floating on the surface. This is Lucas's first season with his boat in Cabuya, but through a lifetime of fishing, guiding in other parts of the world, and a college background in fisheries, he has a wealth of knowledge and experience.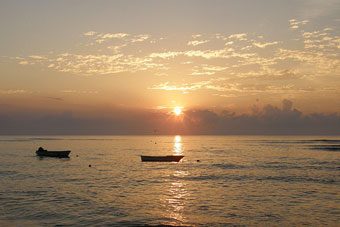 With four in the boat, it was definitely cozy. Lucas had ambitions of a 40lb Mahi Mahi or something even bigger. I shared his optimism, but I couldn't help but wonder how four of us were going to not only wrestle a monster in to the boat, but also make room for it. I figured we'd work it out should the problem arise because he obviously had before. We cast the lures and started fishing. The view of Cabo Blanco far in the distance was spectacular. A view you'd never see without being out on the water. We saw activity on the surface. The water was splashing as something thrashed around. All of a sudden a long silvery fish with a flash of blue arced out of the water. A Sailfish maybe? We took off after it, hoping that it, or something like it would take one of the lures. No luck this time. Or maybe we were lucky? Who knows what would have happened with four men, a blow up boat and 100+lb fish with a sharp bill?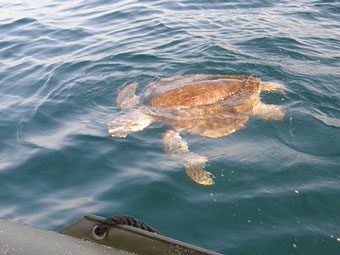 After the first hour with no bites my optimism started to fade. Andrew kept reminding me that this was fishing, and that he'd been skunked, meaning the trip had ended without a fish, many a time. Every so often Luke would look at the water and assert confidently that we were on the verge of hooking the first one. As we kept on in search of our first fish, flashes of blue, like little lights flashed in the water below us. Probably the scales of a Dorado knocked off in a tussle, Lucas explained. The small boat allowed us to quietly sidle up to a turtle. Oblivious to our presence we had a perfect view from our seat close to the water.
Finally we found the spot – birds circling around us and baitfish churning up the surface. The rod bent over, the line started to speed out with a satisfying whirring noise and everyone jumped to attention. Andrew reeled in a Jack. Minutes later a Black Tuna. However, as quickly as the period of activity started, it ended. Today was not the day for Sailfish or Mahi Mahi.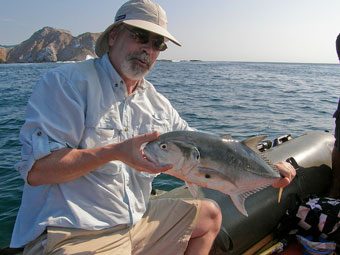 Two fish, turtles swimming around us, a Sailfish soaring through the air, a Humpback Whale in the distance, as well as a wealth of new knowledge, meant I chalked this one up as a successful morning out. An experience made all the better as it was not your normal high priced charter boat from a marina that I as a complete novice have found daunting as well as too expensive just to give it a try. It's safe to say, if that's what you want then a set up similar to Lucas's is not for you. However, if you want to get close to the action, see some spectacular scenery, maybe sit alongside the occasional passing turtle, and learn from a man who is passionate about his fishing, then you too should spend a few hours with Lucas.
Oh, and Lucas told me that he's never been skunked in that boat.