Rodgers H. Bestgen Jr., TheCostaRicaNews.com.
When I first moved to Costa Rica 7 years ago, I often overheard people saying "Yes Costa Rica is interesting from an investing standpoint, but the problem is there's no infrastructure." Infrastructure seemed to be the hot word of the day when talking about Costa Rica – people just seemed to love rolling it off their tongue and you heard it everywhere. Bottom line is it started to become overused. However, they were right, roads were in miserable condition in many of today's popular beaches, like Playa Grande, and others were inaccessible during the rainy season. Even the main roads were full of dreadful potholes, making travel within the country challenging and sometimes impossible. The new international airport in Liberia was handling three new international carrier flights per week and this was taxing. Hospital and doctor facilities were bare to nonexistent in the beach areas, and materials for building were scarce and prohibitively expensive. I often heard tourists muttering under their breath about never coming back, mainly because of the roads. Guanacaste was really quite primitive.
Today, infrastructure has become a hot topic once again, however, this time in a very positive light. Many welcome changes have been made in Guanacaste. I can remember driving one night in the last year or so and being surprised to find not only reflectors in the road, but painted white lines with passing channels. I must have missed this during the day. Driving at night has always been a slightly harrowing experience as the drivers are just plain bad, but without street lights or ambient lighting, and having no lines or reflectors, even empty roads were something of a challenge. However, right around the time Oscar Arias acceded to the presidency, the roads in Guanacaste began a steady course of improvement and today I dare say are of a very good quality. The road to Playa Grande has been paved. I am sure some of the old hands can remember (attempting) to fishtail their way out there during the rainy season. Many formerly inaccessible beaches are now open year round. Of course, the only thing missing are curbs and sidewalks to prevent people from getting run over all the time. Supposedly coming mañana.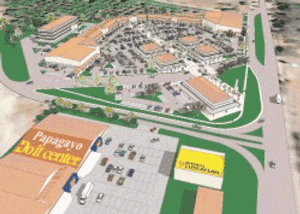 Oscar Arias and the Costa Rican government were smart enough to know that tourism dollars are the number one source of revenue for this country, surpassing even the tax revenue. Besides the improvements in the roads, the biggest news for the future of tourism and development in the beach areas of Guanacaste are several projects that revolve around and include Grupo Do It, the well known developers behind the Do It Center in Liberia. Their project, Hospital Cima, broke ground on November 2nd after many delays. The $160 million dollar project includes 42 spaces for private clinics and other retail outlets and a grand total of 220,000 square meters that will be developed in stages over a period of several years. The hospital will be located at the entrance of a housing development called Pacific Plaza, adjacent to the Do-it Center, and is designed to be a place that specializes in integrated health services that cater to a retirement community.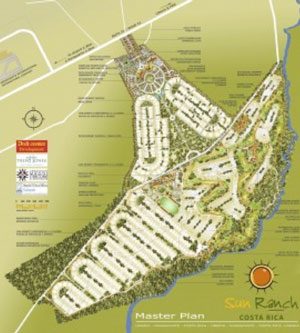 A similar project proposed by Clinica Biblica in association with Sun Ranch retirement community (another Grupo Do It offshoot) includes about 50 acres destined for the state of the art Clinica Biblica Hospital with assisted living and long term care, including 200 rooms, with one wing specifically designed for after care and post-operative recovery. This project also includes a casino, restaurants, a convention center, a 15 acre medical/hotel spa, a wellness center, swimming pools, 500 acres for the Robert Trent Jones Jr. championship golf course, as well as luxury hotels and a residential development. While this project appears to currently be on hold, Sun Ranch says the project is still a go.
Rebecca Clower, a real estate agent in Northern Guanacaste, welcomes the construction of a multimillion dollar annex to Hospital Cima in San Jose. "Bringing modern medical facilities to this area, coupled with the major expansion of the Daniel Obuder International Airport close by, and couple this with the great job the government has been doing on public road system of late, changes the whole picture for Guanacaste Real Estate. Our last big boom cycle here were vacation and second home owners using equity lines of credit. Now we are seeing a different type of client – people who are looking for a dream that is no longer affordable in the U.S. This is leading to a more stable and sustainable growth pattern here in Guanacaste and the beach area in general. New roads have opened up areas here that were not accessible before and today a spectacular ocean view lot can once again be had for under 100k."
Costa Rica has weathered some boom and bust cycles, but is finally gearing up to retain the honor of being the top travel and retirement destination in Central America as infrastructure gains ground. An intelligent eye and private investment in hospitals and other infrastructure projects has brought this country a very long way in ten years. Couple that with equilibrium on real estate prices and Costa Rica becomes an excellent possibility for people considering an alternative, more affordable lifestyle.