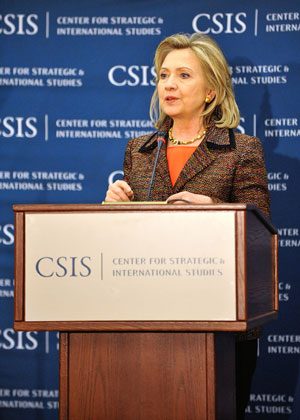 Henriette Jacobsen, TheCostaRicaNews.com.
President Obama's trip to Latin America will lay the foundation for a new era, Hillary Clinton said in a speech at the Center for Strategic and International Studies in Washington D.C. on March 18.
On the eve of President Obama's trip to Brazil, Chile and El Salvador, the Secretary of State called the U.S.-Latin America relationship one of the United States' most important long-term commitments. President Obama's travel will be the beginning of a new era of engagement with the region based on common interest, mutual respect and shared values, Clinton said.
She argued that the "power of proximity" and Latin America's recent economic and democratic development present opportunities to cooperate on economic and strategic issues and promote shared values of democracy and human rights.
There are still too many Americans out of work, and the recovery from the financial crisis is far from complete, the Secretary of State noted. However she emphasized that she shares Obama's optimism; that America will win the future and emerge from the crisis stronger than before.
"But as certain as we are of the goal, it is not something that America can accomplish alone. Enhancing our competitiveness, accelerating innovation, achieving energy security and expanding our exports – all of these require robust engagement with Latin America," Clinton said.
Signing the pending Colombia and Panama free trade agreements will be essential to American competitiveness and job growth in the future;
"These are opportunities we cannot afford to pass up or let them pass us by. The world is so dynamic right now. Events are moving quickly. People are so connected in ways that could not have even been imagined a decade ago."
The Secretary of State also added that Latin American democratic transitions can serve as a model for countries in the Middle East like Egypt and Tunisia. She urged further cooperation with Latin American leaders on regional and global security issues like drug trafficking, criminal violence, climate change, food security, global health, and promoting social inclusion.
President Obama visits Brazil, Chile and El Salvador on March 19-23.