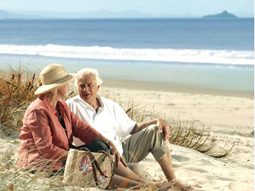 by TCRN Staff
Costa Rica hopes that in the next few years to attract 10,000 foreign retirees to make the country their new home thereby generating income on $340 million annually.
This amount would come from house payments, food, medicine and recreation, but also from the wages of 40,000 new jobs that would be generated by the arrival of this group, according to the ministries of Foreign Trade and Competitiveness.
The way to realize this goal is by creating communities designed for senior citizens and this importance was reflected yesterday after senior officials from both parties signed the document declaring the activity of national interest.
The declaration will allow public institutions such as the Costa Rican Institute of Tourism and the Ministry of Foreign Trade to allocate resources that encourage and promote the creation of these communities.
Now the only thing that remains is the signing of the decree by the president Óscar Arias and subsequent publication in the Gazette to take effect.
The goal of state and private entrepreneurs from real estate and health is that communities for retirees have specialized services for medical care and recreation.
In addition, efforts are made that the communities are relatively close to hospitals, shops, beaches and mountains.
The idea is attractive to the country, which now heads for the formation of a cluster of related companies for attracting the attention of foreign retirees, said Jorge Woodbridge, Minister of Competitiveness.
Among the companies that have shown interest include hospitals and private clinics, especially those with international certification, as awarded by the Joint Commission International (JCI).
According to the strategy, Costa Rica wishes to attract U.S. and Canadian retirees, primarily from Florida, Arizona and Texas.
The focus will be on those over 65, better known as baby boomers, those born shortly after World War II and the early 60s.
With the plan, Costa Rica will offer foreign rentiers maximum tax exemptions.
The amounts range from $ 5,000 to import the new residents vehicle to $10,000 when it comes to appliances brought from home.
Also under consideration is the option to give some kind of exemption on income tax.
Another benefit that would be offered to this group is that their residence formalities will be conducted in a dedicated window in the General Directorate of Migration.
For more information on some of the areas under development, contact us!
[gravityform id="1″]