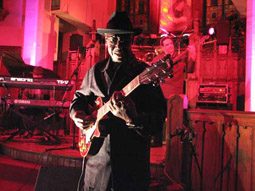 by TCRN Staff

With Texas Johnny Brown, as principal star, Costa Rica is ready for its Third Blues Festival.
Among a list of ten groups that will be performing on February 27th at the Cubano Club in Escazú, Brown, who is considered an American blues legend, highlights the lineup.
"Mostly (the visit of Texas Johnny Brown) is a great joy for all who love this kind of music. To see him here is something good for their careers and, although he is a bit older, is always very good to see him play," said Mo Ledezma to Viva.
This third edition of the festival will try to overcome some of the issues that occurred at the 2009 Festival. On that occasion, which was also in the Cubano Club in Escazú, a particularly strong gust of wind that hit the metropolitan area and caused performance problems.
This time they used one of the terraces of the place as a stage, and also lifted another stage in the bar and eased the passage to the platform. "The idea this year is that, while a band is playing, the other is already being prepared in the other area," said Ledezma.
In addition to Texas Johnny Brown and his Quality Blues Band, Robbie Clark & the Live Wire Blues Band, Electric Storm, and bands operating for years locally such as Calacas Blues, 3 for Blues, The Known Associates, PLC, Blues Devils, No Tricks and The Blind Pig Blues Band will be performing.
Several of these bands have already been in previous editions of the festival. "There is no major difference at the level of content, we want to continue the tradition of the festival," said Ledezma.