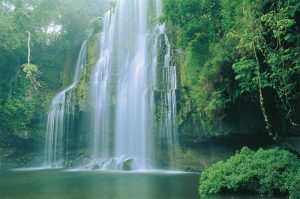 When I decided that I wanted to spend some months abroad in Costa Rica I repeatedly came across the question of "Why Costa Rica?" or "Is it not dangerous over there with a lot of drug traffic and crimes?" Due to these questions, I figured out that a lot of people (at least in Germany) do not know Costa Rica and because of this lack of knowledge are full of prejudices and fears, which I think is very regretful. Is it not that drug traffic and crimes take place everywhere and if we worried about it all the time would we not not be able to travel anywhere? What about the uncountable numbers of paradise beaches, the fascinating flora and fauna and the volcanic landscapes that Costa Rica has to offer? Therefore, I decided to write about "5 Places To See Before You Die" and hopefully I will succeed in showing that Costa Rica has more to offer than some might think of. However, there are of course many more places to see and activities to do. This is only a small view into the uncountable fascinations of Costa Rica.
1. San Jose
As the capital city of Costa Rica San Jose has a lot to offer. If you are a passionate coffee drinker this is the right place for you. With the high amount of coffee plantations you will be able to try fresh roasted coffee beans. After the refreshing coffee you can go and see the "Museo del Oro" which offers more than 1600 objects made of gold from 500 B.C until the arrival of the Spanish in the 16th century. If you are more interested in theaters you can visit the "Teatro Nacional" which opened as early as 1897. At the end of your day you should not miss the nightlife in "El Pueblo". With lots of bars and restaurants "El Pueblo" is a great place to finish the day dancing through the night.

2. Tortuguero
Tortuguero is one out of many national parks in Costa Rica. Tortuguero is situated on the Atlantic coast side and offers its visitors motorboat tours through the long water network. In the middle of its canal system you will find the village "Pueblo Tortuguero" where natives live. Having its name from "las tortugas" meaning "the tortoises" the name "Tortuguera" already indicates that you will find a lot of tortoises there which come to lay down their eggs. Besides the tortoises, you will also get to see a lot of different kinds of birds and if you are lucky you will discover a cayman.
3. El Volcán Arenal
"El Volcán Arenal" is among the most active ones worldwide and is part of the correspondent national park. Its cone shape is eye-catching. Nearby, you will find a rope bridge- rain forest that ensures the adventurous part of the trip.
4. Mal Pais
For those who are more looking for beach holidays Mal Pais will satisfy almost everyone. It is situated at the southern tip of the peninsula Nicoya and marches upon Santa Teresa in the North and Cabo Blanco in the South. In Mail Pais you will find a lot of deserted beaches and nature, whereas Santa Teresa is the right place for surf fans. Mal Pais was elected the number one of Top 10 Beaches in Latin America by Tripadvisor and if you, despite all of these facts, should get bored there is also a nice fishing harbor where you can go fishing or sailing.

5. Rio Celeste
Rio Celeste is situated in the national park "Tenorio Volcano" and makes its way through the great jungle. It ends in a waterfall of which its sea offers a great opportunity to swim. Before you will reach the waterfall, you will walk through the jungle and see lots of flora and fauna. The "Rio Celeste" also has a lot of hot springs which are of volcanic origin.
Maybe this article generated some interest in Costa Rica and you will soon get to find out yourself where the country has gotten its name from. Costa Rica – La Pura Vida!
Category: Costa Rica >> Costa Rica Travel >> Costa Rica Tourism
Written by Christina Tepasse
The Costa Rica News (TCRN)
San Jose Costa Rica
[gravityform id="1″]