From Guanacaste to the Osa peninsula to the Caribbean, Costa Rica is known as one of the best places in Latin America for beach lovers.
Famous for their dazzling sunsets and sunrises, great surfing and swimming in rich tropical settings, Costa Rican beaches have something for everyone to enjoy.
Warm waters year-round, an unparalleled tourism infrastructure, and limitless attractions spanning two coasts are the reasons Costa Rica's beaches rank among the best in the world. And since nearly two thirds of Costa Rica's borders are coastline, there are a whole lot of beaches to explore. Let's get started!
Nicoya Peninsula
Okay, obviously the Nicoya Peninsula isn't a single beach. But Costa Rica's largest peninsula is ringed by so many blissful strips of sand, it deserves a top ten list of its own. Besides livelier beach cities like Montezuma, Tamarindo, and Mal Pais,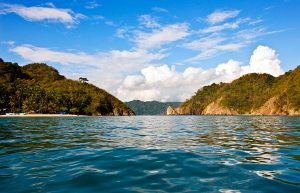 Nicoya boasts many Pacific beaches that are far more remote and relaxing: Playas Hermosa, Samara, Flamingo, Conchal, and Playa Grande.
Lush green hills meet the Pacific Ocean here at the Nicoya area, in northwestern Costa Rica. This combination makes for scenic beaches, and the Nicoya Peninsula has miles of them. The Gulf of Nicoya is in the protected area of the peninsula. These slow moving waters are is dotted with small islands and is a haven for a variety of marine life.
The part of the Gulf of Nicoya that meets the land turns into the Tempisque River. Slow moving currents make this area shallow and muddy, perfect habitat for nesting birds and an ideal environment for the mussels, crabs and shrimps that nestle in the roots of these federally protected mangroves. These smaller animals thrive on the abundant algae, which grows in the water in Nicoya.
The thick woods that cover the hills at the lower part of the Gulf of Nicoya hide secret bays, which are hidden from view. Deeper, saltier water and even less civilization make this a distinctly different experience from the upper part of the gulf. There is a lot of marine life but it is in the form of larger fishes. Different types of monkeys, armadillos, anteaters, jaguars, mountain lions, and giant turtles make this marine sanctuary part of their habitat..
Manuel Antonio
Manuel Antonio is not only one of Costa Rica's most beautiful beaches, but one of the most beautiful in the entire world. Imagine: perfect horseshoe bays bordered by soft white sands, dazzling blue-green waters, and hilltops piled with jungle and streaming waterfalls. Dive, snorkel, surf, kayak, hike, or zipline — but don't forget to relax and enjoy the unforgettable views.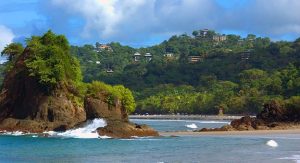 Manuel Antonio National Park is one of the most beautiful parks in Costa Rica and the most popular, with locals and foreigners alike. The hilly evergreen forest provides natural shade from the tropical sun lines and has two gorgeous white sand beaches sloping to the gentle surf. Several trails lead through dense jungle growth to hidden sandy coves and magnificent lookouts over the ocean and beaches. There is good chance that you will see monkeys (howler, white faced, and possibly squirrel monkeys), sloths, and coatimundis. Scarlet macaws do frequent the area however you may need a bit of luck to see them. As the park started to become more known more hotels started springing up. Quepos is well known by sport fishing enthusiasts. The blue water off this coast provides exceptional challenge and excitement for seasoned, as well as occasional, anglers. International bill fishing tournaments in these waters routinely tie and break world records.
Playa Dominical
Playa Dominical, about 30 miles south of Manuel Antonio National Park, is widely recognized as one of the best Costa Rica surfing beaches. A number of surf camps and surf shops have sprung up to take advantage of the lively lefts and rights. But even if you don't surf, you'll adore Playa Dominical's lush green landscape, nightlife and relatively uncrowded sands.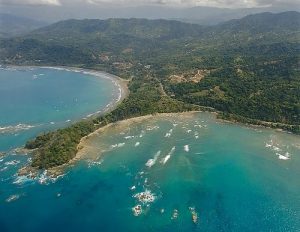 From its turquoise green water to its fiery red and gold sunsets, the natural beauty of the area is second to none. The town sits on the Pacific ocean bordered to the north by the Rio Baru, on the east by three thousand foot high mountains and to the south by dark, coffee brown, beaches and coves. One of the most striking features of Dominical can be found while swimming in the water, the town simply disappears. All you see are the tall beach palms and mangroves surrounded by verdant green hills reaching up into the mountains.
[quote_box_right]Dominical's getting a face-lift! Read more: New Road to Pave the Way in Dominical[/quote_box_right]Dominical has been know for many years to the international surfing community because of its consistently good waves. Discovered in the early seventies by a group of intrepid and dedicated surfers, Dominical has steadily gained in popularity over the last 30 years. The town has become a haven for surfers with local restaurants.
The unusual conditions of the beach is what gives its surf both size and dependability. The wave is a beach break with a twist, that twist being the mouth of the Rio Baru to the north. The river empties out of the mountains to the east and deposits sediments that form into a sandbar that spreads like a pair of lazy rabbit ears north and south of the mouth.
Montezuma
Located on the inner base of the Nicoya peninsula, Montezuma is a gathering place for Costa Rica's most idiosyncratic locals and travelers. Dreadlocked Rastafarians, tattooed bohemians, sun-kissed surfers, and other examples of exceptional beauty are the norm at this picturesque little beach, which also boasts tide pools, forested waterfalls, and wildlife (Capuchin monkeys! Crocodiles!) viewing.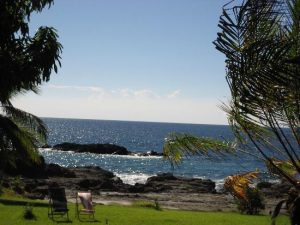 Montezuma has been a long-time favorite for travelers in Costa Rica. The cozy, picturesque village is known for its bohemian flair and stunning beauty of its beaches, rivers and waterfalls.
For decades, Montezuma has drawn a multi-ethnic blend of people from Europe and America seeking an off-the-map lifestyle – some naturalists and artists – giving Montezuma a colorful counter-cultural flavor.
Nestled in a landscape of true tropical paradise, Montezuma is a travel destination for eco-tourists, beach lovers and offbeat tourists alike.
The small beach village is hemmed in by high cliffs overgrown with jungle where small rivers tumble into scenic waterfalls and natural pools. Groups of capuchin monkeys that live in the forests can be easily spotted in and around Montezuma.
Montezuma's center, with charming old wood houses, itinerant artists, and vivid street life feels like the open-air living room of the community where a continuous mellow party takes place. Hotels in Montezuma, restaurants and beaches are all within short walking distance and there are many budget accommodations available, along with vacation rentals and nature, yoga and health oriented hotels.
Tortuguero
At the helm of Costa Rica's Caribbean side, Tortuguero is a eco-tourist's fantasy. Travelers can experience any number of exotic attractions: tours down jungle canals in dugout canoes, scenic hiking trails, guided safaris. Sixteen of Costa Rica's endangered animal species live in the Tortuguero National Park, like tapirs, ocelots, manatees, and green sea turtles, after which the region is named. To top it all off, Tortugero's beaches are perfect for sunbathing.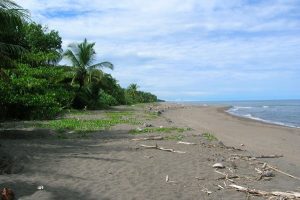 Tortuguero national park is both secluded and well-visited. Thousands from all over come to the shores of the park, located along the Caribbean on the northeastern side of the country, to see the protected nesting sites of the green sea turtles and hawksbill turtle, who lay their eggs in the black sand beaches here every summer. Leatherbacks, loggerheads and other types of turtles are scarce in comparison, but also call the shores home.
Located in one the rainiest parts of the world, Tortuguero national park also contains the land surrounding the beaches, 75 square miles of dense forestation, canals, lagoons and other assorted waterways. Here you can find hundreds of endangered or threatened species, though they are often hard to spot in the mysterious and impermeable forests. Many of the animals found here are still being threatened, however – by fruit plantations, logging companies and by hordes of cattle who use the grounds near the park gates for grazing. But it's the turtles that give Tortuguero national park its namesake (Spanish for "turtle catchers") and why most visitors brave the murky rain and difficult, jungle-like terrain.
Playa Tamarindo
While Playa Tamarindo offers world-class shopping, dining, and coastal amusements, budget travelers might find themselves priced out (when I traveled there in college, I grocery shopped and cooked in a communal kitchen). But Tamarindo's natural perks make the splurge worth it — on the beautiful beaches adjacent to Tamarindo, giant leatherback turtles (and other types) annually clamber ashore to lay their eggs.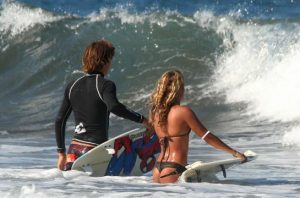 Tamarindo is in the Guanacaste province of Costa Rica, an area that includes much of the northwestern part of this country. A number of different beach fronts are situated along the area north and south of Tamarindo Beach, and immediately to the south is yet another national park. Dolphins, manta rays, and the nearby coral reef make this a great spot for snorkeling, as well as some of the best spots to enjoy Costa Rica scuba diving.
This side of Costa Rica has different weather conditions from the Atlantic side. Hurricanes in the east mean more rain no this side of the country, but the weather is generally clears and highs usually range from 80 to 100 degrees in the dry season. This perfect weather creates an ideal setting for other water activities; and so deep-sea fishing is another popular thing to do in Tamarindo, Costa Rica. It"s warm enough that surfing also a goal of visitors to the area.[quote_box_left]Check out these 10 Exciting Things To Do in Tamarindo[/quote_box_left]
Tamarindo Beach Costa Rica is lined with shops that cater to all of these activities that take place here. Surf camps, eco-tour operators, sailing companies, diving schools, and jungle safaris are all things to do in this area, which you can find out more about simply by taking a stroll down Tamarindo Beach.
Corcovado
Corcovado is the jewel of Costa Rica's Osa Peninsula. Its beaches are windswept beauties, with dark sands shaded by towering palms, while the mountainous inland jungles of Corcovado National Park are home to some of the country's most distinctive wildlife. No trip to Corcovado is complete without a boat excursion to the nearby Isla del Caño, which offers fantastic diving as well as the opportunity to examine the island's ancient stone spheres — spooky!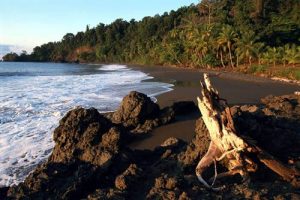 Sheltering one of the Americas' most pristine rainforests, this remote strip of Pacific coastline near the Panama border offers world-class opportunities for wildlife viewing and jungle hiking. Since its founding in 1975, Corcovado has been attracting research biologists and nature lovers from around the globe. Thanks to its isolation and vast size (263 square miles), it boasts a level of biodiversity virtually unparalleled elsewhere on earth and provides dependable habitat for dozens of endangered species, including jaguars, ocelots and other large cats.
The fauna of Corcovado is so varied and rich as its flora, is known the existence of 140 species of mammals, 367 bird, 117 reptile and 40 freshwater fish, and it is estimated that there are about 6,000 species of insects. The park protects the largest population of red macaws (Ara macao) in the country. Some of the endangered species that are here are the tapir (Tapirus bairdii), the giant anteater (Myrmecophaga tridactyla) and five of the six species of wild cats that are found in Costa Rica: the puma (Puma concolor), the manigordo (leopards pardalis), the lion Brenner (Herpailurus yaguarondi), the Caucel (wiedii leopards) and jaguar (Panthera onca).
In the long beach Llorona spawn with relative abundance four species of sea turtles. In the marine area, in front of Corcovado, it is usual to observe dolphins, bull sharks (Carcharhinus leucas) and three species of whales, including the Humpback Whale (Megaptera novaeangliae).
Mal Pais
Surf culture is the principle philosophy in Mal Pais and its coastal neighbor, Santa Teresa. If you're not a wave-worshiper, book a boat tour and watch dolphins, manta rays, and other creatures thriving in the area's protected waters. Travelers can also hike to the Montezuma waterfalls and take a flying leap, or conquer the 4-hour trek through the Cabo Blanco Nature Reserve to its pristine, white sand beach. However, Mal Pais's own beaches are even better for stringing up a hammock and swaying in the sun.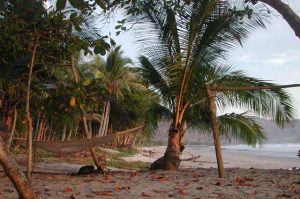 Malpais is a tranquil community with houses and some few hotels loosely spread out along five kilometers of road that begins at "El Cruze", the intersection where the road from Cobano ends at Playa Carmen.
Mal Pais merges with Santa Teresa where you find shops, tourist facilities, and a vibrant surf scene, while at its southern end Malpais borders the Cabo Blanco Nature Reserve.
While in recent years Santa Teresa has seen a boom in development, Mal Pais has retained its quiet, laid-back atmosphere and unspoiled nature. The coast of Mal Pais is in many places rocky, with bizarre volcanic formations making for fascinating landscape.
Old jungle forest grows right down to the shore where rocky outcroppings alternate with sandy pockets of beach, some made up entirely of tiny seashells.
At the southern end of Mal Pais you'll find the small fishermen port where boat and fishing tours will take you around the tip of the Nicoya Peninsula. The maritime sanctuary of Cabo Blanco protects many aquatic species, and from a boat you can watch dolphins, manta rays or whales.