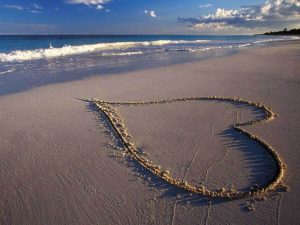 Among the many celebrations that European and American ex-pats have brought to Costa Rica, Valentine's Day is a holiday that has been embraced by native Costa Ricans and foreigners alike. Known as " Dia de Los Enamorados",, literally translated as Day of the Lovers, February 14th has become a time for romance and sharing loving moments with your special someone.
But how did this celebration of all things romantic come into existence? The ancient Romans celebrated a fertility holiday known as Lupercalia on February 13th. This festival was dedicated to Fanus-Roman God of Agriculture as well as the founders of Rome, the brothers Romulus and Remus. During the celebration, initiates of the Luperci (brothers of the wolf) would chase young women through the streets of Rome gently slapping them with strips of sacrificial goat skin. The women actually were pleased to be touched by the strips as they believe this would promote more fertility in the coming year. Still later, single women would place their names in a huge urn to be selected by the city's bachelors. These "couples" were then paired for a year. As might be expected, many of these matches ended in marriage.
TIP: Get our latest content by joining our newsletter. Don't miss out on news that matter in Costa Rica. Click here.
This wild celebration continued until 496 A.D. when Pope Gelasius I banned the holiday and designated February 14th as St. Valentine's Day. In spite of its origins as a fertility festival, Valentine's Day began as a celebration of the Church to honor saints and martyrs of that name. Two of the most prominent were Valentinus of Rome and Valentine of Terni.
According to legend, the Emperor Claudius had outlawed marriage to men of military age as he believed single men made better soldiers. Valentine of Rome continued to perform marriages in violation of this edict and was executed in 296 A.D. Valentine of Terni has a similar romantic connection. His legend holds that he helped Christians escape the prisons of Rome until he, himself, was imprisoned. During that time, it is said, he fell in love with the daughter of the Warden who would visit him. Before his execution, it is said that he wrote her a letter and signed it "from your Valentine".
Although the origins of Valentine's Day clearly are based on love, and fertility, it wasn't until the 14th century when Geoffrey Chaucer clearly made the connection between February 14th and the idea of romance and mating. In his poem "Parliament of Fowls" Chaucer wrote: "For this was on Saint Valentines day, Whan every brid cometh ther to chese his make,".
What many believe is the world's oldest Valentine card was a poem written in 1415 by the Duke of Orleans from the Tower of London, where he was being held captive, to his wife. Translating from the original French to Spanish the opening lines of the poem read: Ya estoy enferma de amor, Mi muy suave Valentine (I am already sick from love, my very gentle Valentine). Regrettably, his wife died before his return to France twenty-five years later.
By the late seventeenth and early eighteenth centuries, the custom of exchanging tokens of love and affection on Valentine's Day had spread from France and the United Kingdom to the Americas and even as far as Australia. In 1847, nineteen year old Esther Howland received an English Valentine's Day card from an associate of her father's which sparked her interest in trying to make and sell her own. Surprised at how popular her idea was, she formed her own business, The New England Valentine Company. Being the first mass-produced cards, she has become known as The Mother of the American Valentine.
So how should this holiday of love and passion be celebrated in paradise? Perhaps a romantic dinner in the shadow of majestic Arenal, champagne and chocolates on the beach near Tamarindo, walking hand in hand along the sands of Jaco, maybe even a moonlight cruise near Dominical and a chance sighting of the whales. It is not the way you celebrate this Holiday of Hearts, it's the person you celebrate with that counts. So to all the lovers and hope-to-be lovers I wish you: Pura Valentine!!!
Lou Cheek
(Lou is a contributing writer and our resident Pura Vida Astrologer. To arrange for a personal reading or astrological charts, please contact Lou here at The Costa Rica News)
The Costa Rica News (TCRN)
San Jose Costa Rica