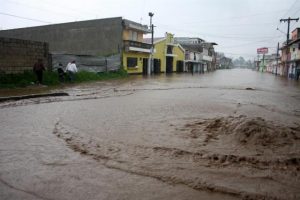 More than 20 roads are closed in 10 communities due to landslides caused by the heavy rains that have poured over the country since Friday, last week.
According to the National Meteorological Institute (IMN), a low pressure system is responsible for the bad weather. The IMN forecasted that the conditions will start improving on Monday, and the rains may cease later this week.
The Consejo Nacional de Vialidad (CONAVI), in charge of maintaining road infrastructure, opened an emergency telephone line to receive reports of interrupted routes.
The numbers are 2202-5567 and 2202-5577, and will be available from 7 am to 10 pm.
According to the National Emergency Commission (CNE), all of the affected communities are still accessible by car.
The road to Poás Volcano and the new highway San José – Caldera are two of the routes that were blocked by landslides.
Sabanilla, San Isidro, Fraijanes and Cerilla were isolated for a few hours while the CONAVI worked to remove  the landslips.
There are also reports of problems in San Ramón, Puriscal, Acosta, Montes de Oro, Aserrí, Parrita, Turrubares, Turrialba, and Osa.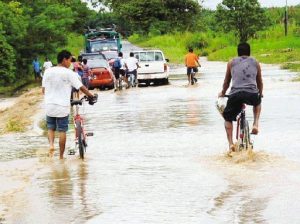 A Yellow Alert has been declared for the Central and Pacific Regions. The Caribbean will remain in Green Alert, and the CNE has asked citizens living in that area to remain cautious.
During the weekend, 325 people had to sleep in shelters in Golfito, Puntarenas, Carrillo, Poás, and Santa Cruz; while 500 people in Tacacorí, Alajuela, had no water service because the pipes were broken by a landslide.
80 people were also evacuated in Santa Ana until further notice because geologists alerted of the possible detachment of a large portion of Cerro Tapezco.
The CNE has already spent about $500 thousand to repair damaged routes. Last year the country spent around $15 million to repair infrastructure, and the agricultural sector reported $40 million in losses because of the weather.
by Mario Garita