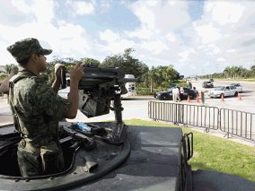 by TCRN Staff

Playa del Carmen, Mexico – The president elect, Laura Chinchilla, will arrive this afternoon in the Mexican Caribbean area to begin her first contacts with American colleagues.
Chinchilla is expected to accompany the president, Óscar Arias, to the Summit of the unity of Latin America and the Caribbean, which will begin the first night with an official dinner offered by the host, Felipe Calderón.
She will be meeting with the president-elect of Chile, Sebastián Piñera, who is accompanying the outgoing president, Michelle Bachelet. Also on her agenda is a conversation with President of Colombia, Álvaro Uribe.
Arias will today officially present the next President to his political colleagues and she will participate as a member of the official Costa Rican delegation in the meetings scheduled for Monday and Tuesday.
The presidential meetings take place today at the Grand Velas, located in the "Riviera Maya Mexican Caribbean, a distinctly tourist region who yesterday saw its peace disturbed by the strengthening of security before the arrival of the dignitaries.
The meeting headquarters is located in Playa del Carmen, a coastal town which is located about 50 km south of Cancun.
The spa has been virtually besieged by the Mexican military authorities and the Navy.
But hundreds of tourists interact with the olive-green images surrounding the main hotels adjacent to the headquarters of the Latin American meeting.