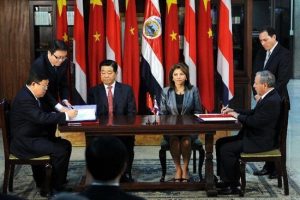 The People's Republic of China wins the contract to build the National Police School of Costa Rica. Security Minister Mario Zamora, said the project will begin in the second half of this year located in Pococí Guápiles.
The property value exceeds $ 30 million, and is 80 hectares, he said.
According to the chief of Public Security, "It will have 800 students with enabled, classrooms, dormitories, library, interactive whiteboards, etc.," said Zamora.
The National Police Academy will be built by a grant from the People's Republic of China, in both the purchase of the equipment from pots, computers, chairs and beds will be made with grant funds, and the EU for 13 million Euros.
The institution will host an average of 800 annual courses with duration of 9 months that will include French and English classes.
The Costa Rica News (TCRN)
San Jose Costa Rica