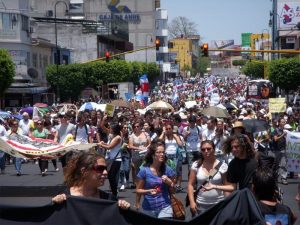 The forces remains in the preparatory phase and will be operating in different parts of the capital May 1, where various organization including trade unions and teachers organizations will protest the different situations and issues confronting Costa Ricans.
According to the director of the security forces, Juan José Andrade, they expect a peaceful and are respectful demonstrations, as well as celebrations of all workers to develop around May 1.
But there is some apprehension after demonstrations turned violent and aggressive during Laura Chinchilla's speech on Juan Santamaría Day celebration on April 11th.
"But we hope for is an entirely peaceful, quiet and that march." said Andrade, adding that they hope to have the details defined on Wednesday the next week.
The concentration of demonstrations will be carried out in three specific points in the capital: Merced Park, the Pacific Station, The Republic (Barrio Tournon), and a group in the Legislative Assembly.
Among the groups that will join the demonstrations are the National Association of Educators (ANDE), the Association of Secondary School Teachers (APSE), the General Confederation of Workers (CGT), the Union of the Costa Rican Electricity Institute (ICE), National Union of Employees of the Social Security Fund (UNDECA), the National Association of Public and Private Employees (ANEP), the Costa Rican Union of Taxi Drivers (UTC), among others.
The Costa Rica News (TCRN)
San Jose Costa Rica