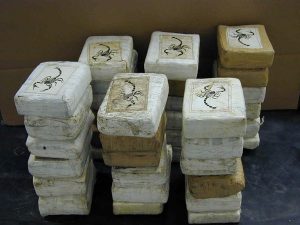 The Attorney General reported the capture of three men wanted for extradition by the United States and are reported to belong to a drug trafficking organization that has sent more than 60 tons of cocaine from Colombia, through Costa Rica to the US since 2011.
The arrested was Adolfo Leon Afanador, alias "Fine" or "Oscar"; Yesid Zambrano, aka "Maco" and Yull Hemberg Zambrano, aka "Yull" from southwest of Bogota.
TIP: Get our latest content by joining our newsletter. Don't miss out on news that matter in Costa Rica. Click here.
The three are sought for extradition from the Southern District of Florida and belong to the drug trafficking organization of Meyendorf Diego Fernando Alvarez, alias "wicks" and Raul Gil Tabares, alias "Raul", who responsible for sending 68 tons of cocaine in the last two years to the United States.
At a press conference, the national director of research at the Technical Investigation Corps (CTI) of the Prosecutor, Fernando Cervera said the organization operated in Colombia, Costa Rica and other Central American countries and the USA.
Afanador, Cervera said, has served 10 years in prison already in the United States for drug trafficking. A alias "Yull, meanwhile, along with two million dollars was arrested in the Mexican city of Guadalajara.
According to the court investigator, aside from these 3 and 129 other arrest, the CTI has seized 15 million in several operations – the last one last week with ten tons of cocaine, 2.5 kilos of heroin and weapons.
"The organization sent cocaine from Colombia to the state of Apure in Venezuela, and from there went to Costa Rica in illegal flights made in aircraft and small aircraft. From Costa Rica, the drug was taken by land to the United States through Central America and Mexico "said the investigating agency in its statement.
Both Alvarez Gil Meyendorf as Tabares are imprisoned in the United States.
According to the prosecution, the drug gang has ties to Mexican drug cartels and Daniel "Loco" Barrera a Colombian narco prisoner who is about to be extradited to the United States.
The Costa Rica News (TCRN)
San Jose Costa Rica