This Sunday, June 17th, Father's Day will be celebrated in Costa Rica. This is the day where families meet to share with those men called "superheroes" by their sons and daughters. In some cases to remember those who have already passed away and, for others, to congratulate single mothers who fulfill the double parental roles in the lives of their children.
Also this year, Father's Day in Costa Rica will be unforgettable, because, in the World Cup Russia 2018, our National Football Team will play against Serbia in its debut, hopefully triumphantly.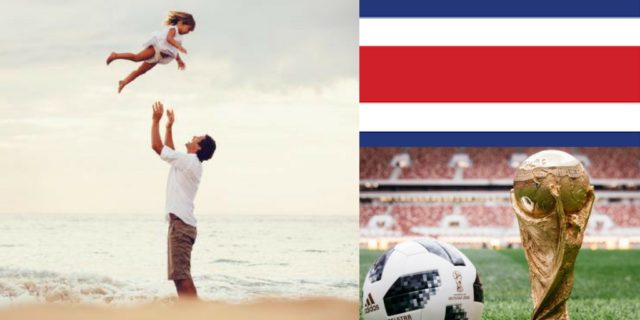 These are the reasons why this year's celebration is unique and emotions will run high.
You might be asking yourself where to go to watch the game, have a great time, and celebrate Father's Day. How about Plaza Itskatzú, an ideal place for all Ticos, to watch the match between Costa Rica and Serbia?
Plaza Itskatzú is located in San José and rated as one of the most commercial places where Costa Ricans can enjoy not only the game but, at the same time, receive exquisite and varied gastronomical options.
There are other places where you can enjoy the game and have an amazing time like the country's beautiful beaches. There, you can relax in the sand, taking a tan, while listening to the game live on the radio.
Do not miss having a good time with family and friends, and celebrate every "GOOOOL" of Costa Rica, with good food, and in the style of "Pure Life".