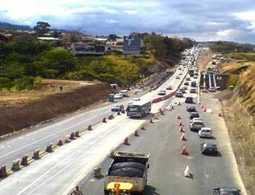 by TCRN Staff

The company Highways of the Sun said yesterday that the amounts payable at each toll collection station will remain unchanged from any further period home 01 of January 2010.
As indicated, as of that date, almost all of the tolls will remain enabled. By contrast, only in the toll Escazú, heavy truck axles two and three paid ¢ 10 colones less than they should pay up now.
In that sense Cristian Sandoval, CEO of Highways of the Sun, explained that changes in tariffs under the contract are not always directed upward, as on this occasion. On the other hand recalled that after the decision of the Constitutional Court, which ruled that the company Highways of the Sun had to provide a dedicated lane for emergency vehicles, said that since October it enabled and properly marked, a dedicated lane for vehicles emergency.