To Our Readers:

We thought we would put together a small travel article on our recent trip to Puerto Viejo, a hip, rocking Rasta town on Costa Rica's Caribbean coast. I've tried to focus more on the budget traveler here and to provide as much information as possible. If you like what you see, or at least the premise, let us know and we may make them a more regular occurrence! Feel free to provide additional information to what is presented here and if you'd like us to write about a particular area in Costa Rica, let us know!
Location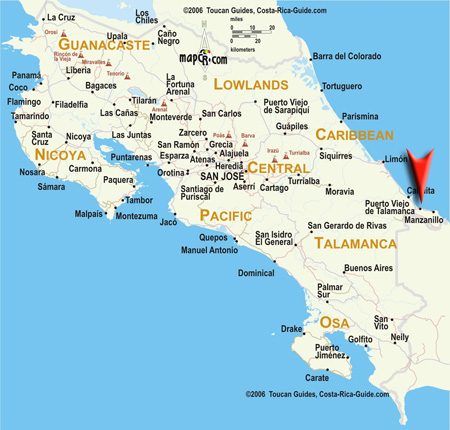 TIP: Get updates on upcoming Costa Rican Retreats & Events by joining our newsletter. Don't miss out on what's happening around you! Click here.
Some History and Facts
There are actually two Puerto Viejos in Costa Rica, one is Puerto Viejo de Sarapiqui which is a small town located inland in the northeast and Puerto Viejo de Talamanca, located on the Caribbean coast. The latter of which is the subject of this entry.
Puerto Viejo is one of the most happening' spots in Costa Rica. Known for its laid back attitude and famous for it surfing, with the surfer, backpacker, and counterculture crowds (mostly Europeans and young North Americans) have firmly rooted here.
It also has a well earned reputation for petty crime, with one of the highest theft rates in the country (roughly 20 reported a week). But this shouldn't stop you from visiting this little Caribbean gem.
Getting There
By Air: The closest airport to Puerto Viejo is in Limon, with a taxi from the airport to Puerto Viejo costing around $30.
By Car: If you are coming from San Jose as I was, you will need to take the Guapiles Highway north out of San Jose on Calle 3 before turning east and passing close to Barva Volcano and the Braulio Carrillo National Park rainforests on your way to Limon. As you enter Limon keep your eyes out for a paved road on your right just before the railroad tracks, follow this coastal road south until about 13 km past Cahuita where you will see a "fork" in the road. Take the left fork, which actually appears to be a straight shot, and you will arrive in Puerto Viejo after about 5 km.
By Bus: MEPE express buses (2257-8129 in San Jose) leave San Jose for Puerto Viejo via Limon daily from the Terminal del Caribe at 6 and 10 am, noon, 2 and 4pm. Although there may be less buses in the rainy season. The ride takes about 4.5 hours and makes one 10 min stop in Limon. Cost is around US$7
Your other option is to take a semi-private shuttle bus. Both Grayline and Interbus have two daily buses that leave San Jose at 7:45am and 2:30pm for all the beaches in this area. The cost is about US $30 and they will pick you up at most San Jose hotels.
The Trip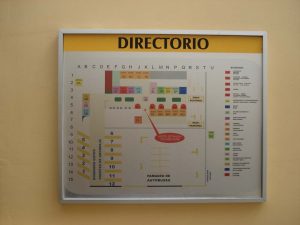 I picked up my ticket at the Gran Terminal del Caribe the morning I left. While you can probably get away with this in the off season, it is always a good idea to pick up your ticket a few days in advance. The station is one of the newest and safest in the country, containing several shops and a large food court. This being said however, I should remind you to always keep your belongings near you at all times. I didn't get any photos of the terminal itself, but I did take a picture of the map (below). You pickup your ticket at the far north window, marked 6Q. As stated above the trip lasts about 4.5 hour and costs around US$7.
One of the main reasons I prefer to travel by bus in Costa Rica is so I can enjoy the beautiful countryside along the way without having to deal with the worries of traffic or navigation. The ride to Puerto Viejo is no exception. Once you leave the city and begin the climb into the cloud forests of Braulio Carrillo National Park the scene is breathtaking. Partly because of the abundance of natural beauty and partly because the shoulder-less highway runs along the edge of a steep cliff during its passage up and over the mountains.
Once cleared, you gently descend into the heart of banana country where you will see first hand why Costa Rica was, and is, a banana republic. The temperature begins a steady and constant rise from the cool mountain air to the hot and muggy Caribbean climate. The approach to Limon is marked by the Del Monte, Chiquita and Dole banana processing plants that employ the vast majority of the locals.
After a quick food and bathroom break in Limon, you turn south along the coastal road where it is not uncommon to spy several container ships or even a cruise ship or two. The noise and congestion of the industrial city are quickly left behind though and soon you are rolling through quaint villages with a distinctive Spanish-Caribbean influence.
A brief stop at the bus station in Cahuita (don't get off if you aren't staying there) and it takes about another 30 min to traverse the last 16 km or so along the poorly maintained, but constantly improving "paved" road.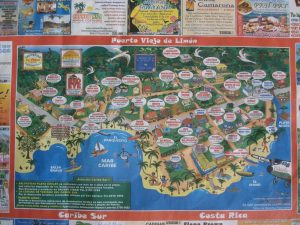 The bus drops you off near the beach in town. Here is a basic, not to scale map of Puerto Viejo.
TRAVELERS TIP: As with most places, as soon as you step off the bus you'll probably start getting hit up for various services. Taxis are one, but you shouldn't need one for going anywhere in Puerto Viejo as the town only has about 10 dirt streets. The other common offers are from "friendly locals" who are paid to convince you to stay at a certain hotel. They can be both persistent and annoying, but the best way to avoid them is to know where you are heading before you arrive and NOT to pull out a map or guide book on the street.
The feel of Puerto Viejo is indeed that of a laid back Rasta party town. My stress always seems to melt away once I've arrived and am on route to my hotel. There are options for every budget in Puerto Viejo with more hotels springing up all the time, but I have always preferred Cabinas Casa Verde.
The hotel, featured in the pictures below, is a completely enclosed compound with private parking, should you be driving. The immaculately manicured grounds sweep you further into a state of relaxation with their colorful mosaic tile sidewalks and showers, and feature a great pool that gets lots of sun, a small restaurant, and an excellent friendly staff (Spanish, English and I believe German is spoken). The clean rooms each have a small sink, fans, bug screens on the windows and a porch with a hammock.
The prices are extremely reasonable and vary depending on the season from $28-$50 (depending on the size of room you get). Cabinas Casa Verde is easily my favorite hotel in Costa Rica and receives my highest recommendation. The only fault I can find with the hotel is the lack (at least to my knowledge) of a WiFi internet connection.
A friend of mine was staying at Rocking J's, which is an extremely popular hostel about a kilometer farther down the road toward Manzanillo. This huge complex is a budget backpacker or surfer's dream. The colorful grounds contain two large, open air rooms filled with hammocks ($5/night w/locker) and tiny private rooms ($7/night) and even a tree house ($60/night). There is a common kitchen on site as well as a small bar and you can rent just about anything from bikes to snorkeling gear to the reception desk.
The options for restaurants and bars in Puerto Viejo are almost as plentiful as the hotels and I could not hope to cover them all here. However, I do have a few favorites I will share.
El Parquecito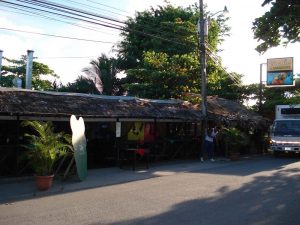 Although I have noticed a recent jump in their prices, El Parquecito is still good food for a decent price and this is where I grabbed dinner my first night. With an ocean view, a large covered seating area and small Bob Marley themed stage for live music, they have great wood fired pizzas and serve an excellent Chicken in Caribbean Sauce. The Marlin steaks are also quite good. Average price: US$6-$12.
Mare Nostrum
Mare Nostrum has similar food at El Parquecito (minus the pizzas) but at the prices El Parquecito had a year ago. Again, this small restaurant has a great view, but much more limited seating with most of it outside. Given the almost daily rain in Puerto Viejo, you need to time your visit here wisely. Average Prices: US$3-$8.
PanPay
PanPay is a great little bakery that serves up traditional breakfast food at rock bottom prices. It is located right next to Johnny's Place near the beach (see map). Choose to grab a fresh baked pastry or the more filling Gallo Pinto and wash it down with great coffee or freshly prepared fruit juice. All while looking out over the morning waves. Approximate price: US$2-$8.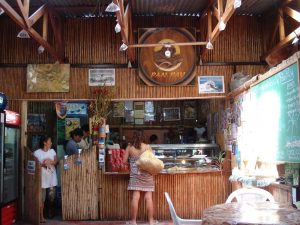 As far as nightlife goes, Puerto Viejo is the spot on the Caribbean coast to party! The options are growing too fast to attempt do document, but two of the long time favorites are Johnny's Place, whose dance floor often spills out unto the beach and Discoteca Stanford which is about 200 meters east on the road to Manzanillo. Both will be rocking starting around 10pm and usually run until at least 3 or 4am. Don't be surprised if you are openly approached during the course of the night by several dreadlocked locals offering you "the good stuff", it's just part of the Rasta culture. All I can say on this account is Buyer Beware!
Besides the nightlife, the main draw of Puerto Viejo are the surfing beaches and the very relaxed atmosphere, but there are a few other activities that worth including such as the Finca La Isla's Botanical Garden and for those with more time and a stronger sense of adventure, Aventuras Bravas offers a 20 hour jungle survival tour where you learn to find and make a trail, build a rain shelter, find and cook local food and sleep in the jungle. (US$60).
I however came for the beaches and wildlife, and there was no shortage of either in the area. The best swimming beach in Puerto Viejo in my opinion is Playa Cocles which lies just 1.5km south of town. While it is possible to take the road there, there is a trail that runs parallel to the shore cutting through the forest which is much more pleasant. Playa Cocles is also one of the most popular surfing spots in the Caribbean so keep an eye out for surfers if you're swimming. This beach is easily recognizable by the presence of the rocky, tree-cover islita that just off shore.
I also I took a day trip back up to Cahuita National Park and walked the roughly 10 km beach side trail through the park. To be fair, Cahuita could easily have an entry here by itself and probably will in the future. I only went to Cahuita for the park this time however, so that's all I will cover here.
The North entrance to the park doesn't require any entry fees, but you can donate if you wish. The main draw of the Park is the 600 hectare coral reef, which is one of the best in the entire Caribbean for diving and snorkeling. To protect the reef, you can not do either of these activities on your own and must hire a guide. But at only about $15, this is well worth it.
It took about 4 hours to walk entire trail and along the way there are many completely isolated beaches where you could waste the day away and tons of wildlife to fill up your memory card. The majority of the trail is shaded and there are also a few rest areas along the way with well water, but I recommend bringing your own water and plenty of it just in case. The bugs can get pretty aggressive here as well, so I suggest repellent also. Pictures of the park and trail are below.
And as I'll try to do with every post here, I'll end with a sunset picture from the beach in Puerto Viejo Town: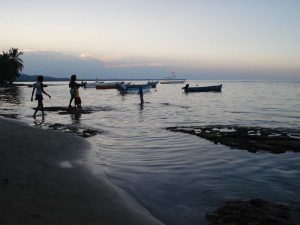 The Budget
I arrived Wednesday afternoon and left early Saturday morning, so for the three days I was there the price was amazing. Bus tickets to and from San Jose ($12), three nights hotel ($75), eight meals ($50) and drinks, snacks, souvenirs, etc ($30) for a total of approximately $167.00 USD
More Information
If you'd like more information on anything presented in this article, please contact us