Costa Rica has a rich biodiversity that allows it to be filled with masterful flora and fauna. This includes a long list of forests, beaches, mountains and even volcanoes, both active and inactive.
Among other natural treasures, one of its greatest attractions is the so-called "Rainforest Cable Car". This majestic place is located on the road from San José to Limón, bordering the Braulio Carrillo National Park, 1 hour away by car.
The place is currently considered one of the wettest and most exuberant forests of the Neotropics. Daily, it receives a large number of visitors, whether Costa Rican residents or people from other parts of the world, who seek to live an exciting adventure at high altitude.
This cable car has the capacity to transport 5 passengers per trip, including a specialized bilingual guide who, during the trip, will be in charge of showing the different species of trees and birds that live in this unique environment. Additionally, he offers an interesting introduction to the rainforest.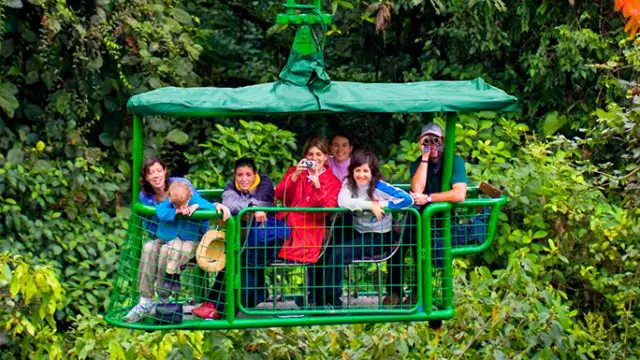 On the way, passengers pass through a river. There they can appreciate various species of animals at different heights of the forest, including their treetops. Among them, the white hawk and the woodpecker are usually seen.
To make the journey, visitors approach a transport system pulled by a tractor device, which leads them to enjoy beautiful panoramic views from the suspension bridge.
The journey in this tram takes approximately 1 hour and 15 minutes from start to finish and covers about 2.6 kilometers. Throughout the trip, it will stop several times at the charging stations.
To make the most of this experience, it is advisable to bring cool and comfortable clothes, sports shoes, insect repellents, raincoat, a camera to capture your favorite moments, and binoculars to improve your vision.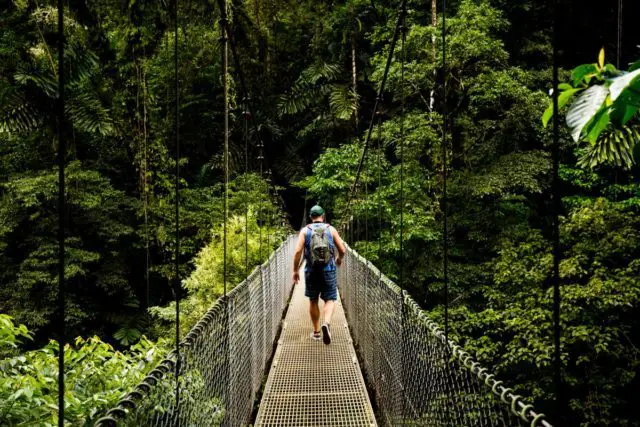 If you already know it, do not hesitate to return. Each new experience will surprise you even more…
And if you have not yet visited it, go and get to know this place in one of the most emblematic national parks in the Tico territory. You will not regret!