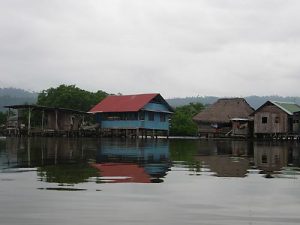 Many visitors that come to the Puerto Viejo Region of the Caribbean Coast of Costa Rica also travel to Bocas del Toro, Panama.
Bocas is only about 30 km from Puerto Viejo. A traveler can reach the island in about about 5 hours by land.
The Bocas del Toro Archipelago consists of nine islands, 52 keys and some 200 tiny islets. The largest and most developed island is Colón Island, where the capital of the province, the town of Bocas del Toro, is located.
The climate of Bocas is quite similar to the climate of Puerto Viejo. The vibe is similar, but this island community is in a whole new country, a whole new community set around the unique way of life that is living on an island.
Many people that go there don't take the time to see the real Bocas. There is much opportunity for cultural, educational, and beneficial tourism.
There are many interesting cultural and adventure activities you can enjoy there including great ways for conscientious travelers to have a get to know the real Bocas.
Track down the group called AAMVECONA – The Association of Friends and Neighbors of the Coast and Nature. They are formed by local residents and offer rural community eco-tourism. Tourists enjoy an incredible educational and cultural experience without creating a negative impact on the fragile and beautiful region. AAMVECONA strives to conserve and protect the San San Pond Sak ecosystem through eco-tourism. Turtle or manatee watching adventures, boat tours through the wetlands, lagoons, and mangroves, volunteer opportunities, day and overnight adventures.
The Bocas Sustainable Tourism Alliance (BSTA) is an organization composed of representative of Bocas del Toro's many tourism-based enterprises, as a well as biologists, conservationists, local community representatives, agriculturalists, and boat captains. It supports the local and global marketing efforts of all members and develops materials to promote Bocas del Toro internationally as a destination for sustainable tourism.
Additionally, the Alliance undertakes conservation efforts to preserve the cultural and ecological landscape of our archipelago, such as training workshops, organizing a farmer's market, and promoting local waste management initiatives.
Through these organizations, while in Bocas, you can visit the one of 11 Naso indigenous people's villages. The Naso have the only monarchy in the western hemisphere. Or visit the Ngöbe-Buglé, the largest indigenous group in Panama.
In the province of Bocas del Toro there are several protected areas you can visit, including La Amistad International Park, Bastimentos National Marine Park, Palo Seco Protected Forest, and San San Pond Sak Wetlands.
Traversing the Divide:
There are various ways to get from Puerto Viejo to Bocas.
One can travel by public bus, arrange for a minibus to pick you up at your hotel, or plan a guided day tour.
Some info you need to get from here to there:
Once reaching Sixaola, the border town on the Costa Rica side, you must check out of Costa Rica and then check into Panama in the small town of Guabito.
Keep in mind that there is a time change between the two countries. It is one hour later in Panama (so 11AM in Costa Rica is noon in Guabito).
The border offices on the Panama side does close for lunch.
There are several countries that have to pay a small fee for the entry visa into Panama (USA citizens pay US$5). Among them: Australia, Belize, Bermuda, Barbados. Bahamas, Canada, Colombia, Dominican Republic, Hungary, Ireland, Jamaica, Japan, Mexico, New Zealand, Taiwan, Trinidad y Tobago, United States of America, and Venezuela.
Remember your passport.
You might have to proof of having money.
Travelers must carry their proof that they will be leaving a country upon entering that country. So, when entering Panama you must demonstrate evidence that you are flying out of that country within 30 days. If you do not have this proof you are required to purchase a departure bus ticket which in Panama costs about US$11. If you return to Costa Rica you will also be required to show proof that you are leaving within 90 days.
Your Options:
The Cheapest, by public transport:
Public Mepe Bus from Puerto Viejo to Sixaola: about $3 (there are hourly buses, we recommend you go early, so you can arrive in Bocas before dark to find your home for your stay)
Often when disembarking the bus, someone will offer to help you make the transition from Costa Rica to Panama. They can be a bit pushy as they want to get a commission from the van drivers that take people to the boats in Almirante. If you take the private van transportation the price is negotiable.
Visitors Visas to entry Panama for some countries: $5
Colectivo taxi from Guabito to Changuinola: $2
Buseta from Changuinola to Almirante: $1.20
Boat from Almirante to Isla Colon: $4.
Total: $15
Day tour to Bocas:
Depart 6:30 AM
Includes hotel pick up & drop off
Breakfast
Lunch
Dolphin Tour
Snorkeling
and a visit to Bocas Town
US$100
For more info contact [email protected]
Caribe Shuttle
picks you up at your hotel
7:30 AM or 1:30 PM
$32 each way plus $4 boat to the island.
caribeshuttle.com
Fly
Changuinola to Bocas one way for around US$29
www.aeroperlas.com