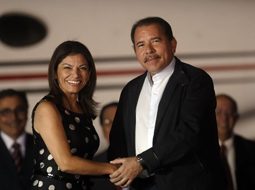 by IRENE VIZCAÍNO
After conciliatory speeches and handshakes, the elected president, Laura Chinchilla, and the Nicaraguan president, Daniel Ortega, set to work.
Just yesterday, they agreed to work together on a project to create a tourism corridor that includes the province of Guanacaste and cities like Rivas and Granada, across the northern border.
There was also a consensus reached regarding the operation of groups in both countries to coordinate actions against insecurity and drug trafficking.
Everything is aimed at reactivating the Binational Commission, which has not met two years.
"We can not wait. Once these committees begin to work, it be could a revival of the Binational Commission", said the Nicaraguan president.
These were the concrete achievements of the visit of the President-elect to Managua. The meeting took place at a usual early hour in the Air Force Hall of Protocol, at the Augusto Cesar Sandino Airport.
The next meeting of the presidents was set for November in the "Guanacaste", the Nicaraguan president said.
Translation and editing by TCRN Staff