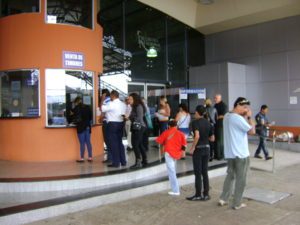 SAN JOSÉ, Costa Rica – Rodrigo Sánchez said it was a real estate opportunity he couldn't refuse.
"A friend of mine told me about this business," Sánchez, 50, said. "He said that he would pay $3 million colones (US$5,967) and I would put down $1.5 million (US$2,983) of my own money."
But the deal to buy a house was too good to be true, as the venture collapsed a few months after Sánchez made his payment.
"Everything looked OK during the first months, but after [that] they called us and told us there was something strange going on," he said.
What Sánchez didn't know was the property he had purchased had been acquired illegally by the sellers.
He was the victim of a fraud.
"I lost all the money that I had invested," he said. "I felt bad because it's money I had earned with a lot of work. Money is not that easy to get."
He was among six witnesses who testified against Álvaro Pacheco, a 57-year-old business administrator who was sentenced to nine years in prison for his role in the fraudulent scheme.
But what happened to Sánchez is not an anomaly in Costa Rica, as the Central American nation is home to as many as 20 cases of property fraud monthly, according to the country's Fraud Prosecutor's Office.
"There are some people that get access to a special security notary paper through a crooked public notary or an assistant of a negligent notary," said Roxanna Sánchez, director of the Administrative Board of the National Land Registry. "Then they make a transcription of a deed, and they forge the signature."
Other forms of fraud involve making false property titles under the names of the deceased, creating fake power of attorney documents and forging the signature of the legal owner to transfer the property, Roxanna Sánchez said.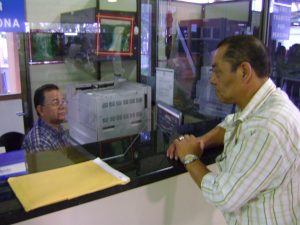 iBuyers, however, have the power to freeze the transfer of funds if they become suspicous of the transaction before all the money has changed hands, prosecutors said.
"What the property owner should do is ask for a court order to immobilize the asset," said Jonathan Jara, lawyer at the Castro Herrera Abogados law firm in San José. "This would be with the only objective of preventing the property from changing hands, as it would involve third parties, which was what happened in the case of Mr. Sánchez."
Roxanna Sánchez said her office is taking several measures to stop property theft nationwide.
One of the steps will be the installation of the "Digital Sentinel," a software application that monitors a person's assets stored in a public registry.
The software will send the owner a text message or email if a transaction with a property registered under his or her name is made. If the transaction is not authorized by the owner – or if the transaction looks suspicious to officials – the deal will be frozen until all questions are answered by all parties.
"We are studying the possibility of offering some sort of registry insurance," Roxanna Sánchez said. "Some companies are already selling insurance but mainly to foreigners."
Private security companies are offering a similar program, called "RN Centinela," which monitors a customer's properties and sends a comprehensive report to the client every 15 days.
Dennis Martínez, vice president for North America, Central America, and the Caribbean of the International Union of Notaries, said those involved in the registry business must make sure all transactions are legal.
"Those cases [of fraud] are aberrations that should not happen," he said. "Every professional association, such as the ones for lawyers and notaries, should take the appropriate measures to penalize members that participate in those activities."
But it's too late for Rodrigo Sánchez to recoup his money.
"[Pacheco] was put in jail but nobody gave me my money back," he said. "My lawyer says that the only way to get it back is to request an impoundment order on his assets, but since he is in jail, he doesn't have a salary [and] he doesn't have any assets registered to his name. It is impossible to get the money back."
SAN JOSÉ, Costa Rica – Rodrigo Sánchez dijo que era una oportunidad inmobiliaria que no podía rechazar.
"Un amigo mío me dijo del negocio", dijo Sánchez, de 50 años. "Él se comprometió a pagar $ 3 millones de colones (US$ 5.967) y yo puse $ 1,5 millones (US$ 2.983) de mi dinero."
Pero ese trato para comprar una casa parecía demasiado bueno para ser verdad y se deshizo unos meses después de que Sánchez hubiera pagado.
"Todo parecía bien durante los primeros meses, pero después [de eso] nos llamaron y nos dijeron que había algo raro", comentó.
Lo que no sabía Sánchez era que la propiedad que había comprado había sido adquirida ilegalmente por los vendedores.
Había sido víctima de un fraude.
"Perdí todo lo que había invertido. Se siente uno mal porque es plata que uno se ha ganado con mucho trabajo. Y es que la plata no se la regalan a uno", señaló.
Fue uno de los seis testigos llamados a declarar contra Álvaro Pacheco, un administrador de negocios de 57 años, quien fue condenado a nueve años de prisión por su papel en este fraude.
Lo que le sucedió a Sánchez no es una anomalía en Costa Rica, puesto que la nación centroamericana registra hasta 20 casos de fraude inmobiliario todos los meses, según la Fiscalía de Fraude.
"Hay gente que consigue acceso a un papel notarial especial de seguridad por medio de un notario corrupto o un asistente de un notario negligente", comentó Roxanna Sánchez, directora de la Junta Administrativa del Registro Nacional de Tierras. "Luego hacen una transcripción de un título y falsifican la firma."
Otras formas de fraude son el crear títulos de propiedad falsos con nombres de fallecidos, con poderes notariales falsos y falsificando la firma del propietario legal con el fin de transferir el inmueble, señaló Roxanna Sánchez.
No obstante, los compradores tienen poder para congelar la transferencia de fondos si sospechan de la transacción antes de que todo el dinero haya cambiado de manos, según indican los fiscales.
"Lo que el propietario registral debe hacer es acudir a un juzgado para pedir que se inmovilice la propiedad", dijo Jonathan Jara, abogado del bufete Castro Herrera Abogados, de San José. "Esto con el objetivo de que el bien no siga pasando de manos, porque ya involucraría a terceros como le pasó a este señor Sánchez."
Roxanna Sánchez dijo que su departamento está tomando varias medidas para parar el robo de propiedades en todo el país.
Una de ellas será la instalación del "Vigilante Digital", una aplicación informática que registra la propiedad de una persona existente en un registro público.
Este programa enviará al propietario un mensaje de texto o de correo electrónico si se realiza una transacción con una propiedad registrada en su nombre. Si no ha sido autorizada por el propietario, o si parece sospechosa para las autoridades, se congelará hasta que todas las partes respondan las preguntas.
"Estamos considerando la posibilidad de ofrecer algún tipo de seguro registral", dijo Roxanna Sánchez. "Algunas compañías ya están vendiendo seguros, pero principalmente es a extranjeros."
Algunas empresas privadas de seguridad ya ofrecen un programa similar, denominado "RN Centinela," que monitorea las propiedades de un cliente y envía un informe extenso al cliente cada 15 días.
Dennis Martínez, vicepresidente para América del Norte, Centroamérica y el Caribe, de la Unión Internacional del Notariado, aseguró que los que participan en el proceso de registro deben asegurarse de que todas las transacciones sean legales.
"Esas circunstancias [los fraudes] son aberraciones que no deben ocurrir", dijo. "Cada grupo profesional, como los de abogados y notarios, debe tomar las medidas necesarias para sancionar a los agremiados que incurran en esto."
Sin embargo, para Rodrigo Sánchez ya es demasiado tarde y no recuperará su dinero.
"[A Pacheco] lo metieron a la cárcel, pero a mí nadie me devuelve el dinero. Lo que mi abogado me dice es que la única forma sería poniéndole un embargo, pero como está en la cárcel no tiene salario [y] tampoco tiene ningún bien a su nombre, entonces es imposible conseguir el dinero de vuelta", comentó Sánchez.