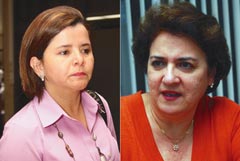 by TCRN Staff

2009 was full of important challenges that served to strengthen the Ministry of Health in its role of stewardship in health-related issues, with the declaration and approach AH1N1 pandemic, the event which spurred the body to resume its leadership role.
Maria Luisa Avila and Ana Cecilia Morice, Ministers and Deputy Ministers of Health, respectively, acknowledged that the Health Ministry had to take some of the strengths that were on paper and implement them in order to avoid disorganization, double containment and avoid panic that may occur in various situations.
Along these lines María Luisa Ávila acknowledged that 2009 was a year of significant challenges, as this unit had to assume responsibilities far beyond their normal sphere, since they had to unite efforts with other areas such as tourism, transport, economic and political, as well as others to deal with the pandemic.
"Fortunately by 2009, we had two and half years to strengthen the Ministry of Health as the real governing body. We did a lot of testing and I think we did pretty well, because the general community is recognizing us as a leading agency because we managed to convene many social actors to achieve a common goal."
She added that the Ministry of Health has a high level of credibility within the population, which has contributed to the establishment of strategies and guidelines that were immediately abided by the general public.
Source