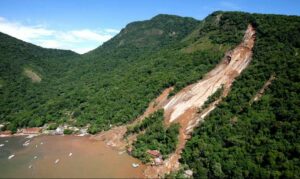 By TCRN Staff
The death toll from the New Year's Day landslide that struck a Brazilian island resort has now reached 26. The slide swept down the hillside, obliterated multiple homes and carried a luxury hotel into the sea on Ilha Grande, Angra dos Reis, near Rio de Janeiro.
Intense rain caused mudslides in numerous other locations throughout the Rio area of the country, destroying homes built in hillside slums and claiming the lives of at least 60 people.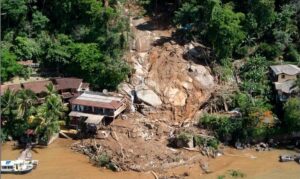 Rescue teams are continuing to search for survivors on Ilha Grande.
According to local officials, the Sankay Lodge was full that when the mudslide hit where over 40 guests, including children, were ringing in the New Year.
Witnesses said the houses and the resort had been hit by a piece of the hillside measuring some 300m across.
"It was a deafening noise, I've never heard anything like it – a loud thunder that wouldn't stop," Felipe Gomes Martins, a neighbour of the hotel, told the Brazilian news website G1.
Other landslides in Angra dos Reis killed seven people early on Friday.
On Thursday at least 19 people died as heavy rains triggered mudslides in Rio de Janeiro state.
Local authorities have declared three days of mourning.