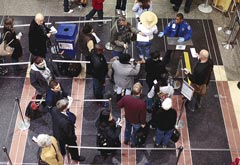 by TCRN Staff

The Foreign Trade Promoter (Procomer) announced that starting next year there will be a new safety standard in the United States (USA) which could generate some concerns as some perishable food wholesalers fear their products will deteriorate at airports, because the measure requires inspection of products for the presence of bombs before they are placed in the holds of passenger jets.
The boxes with fruits, vegetables and fresh seafood in the tanks will have to wait at airports for hours before being loaded onto planes.
"The food will lose its freshness and there are hygiene concerns because security managers must stack and manipulate them to look for bombs," he argued in a press Procomer, Chris Connell, Co-signing mmodity Forwarders, which is responsible for transport of perishable goods.
It is possible that deposits at airports will become congested with cargo and "must close their doors because they can not catch up with the inspections," says Harvey Waite, ocean transportation company, reported in USA Today.
Currently, only some shipments are inspected, but in January, all the products concerned must be inspected before being loaded onto passenger planes.
Under the new law, investigations are conducted by private companies and not by the Transportation Security Administration of the United States.
The federal agency is only responsible for certifying and supervising the work of enterprises, although the Administration was responsible for inspecting luggage since 2002.
According to representatives of Procomer, this could create some concern among importers and carriers in the United States and the arguments are important to know in order to be prepared for any objection to the admission of Costa Rican products.
Currently, Costa Rica exports many products to U.S. and foreign sales fell though still prominent, from $3,324 million to $2,794 million, being the main export products are computer parts, bananas, infusion and transfusion equipment of sera, textiles and pineapple, among others.
Among the main companies that sell are: Components Intel de Costa Rica, Hospira, Allergan, Exporter Firestone of Central Agricultural Development Corporation of Mt.
The vice president of the Chamber of Exporters of Costa Rica (CADEXCO), Sergio Navas, said he will discuss the new security measure and what impact this will have in terms of cost and how exporters can minimize the results.