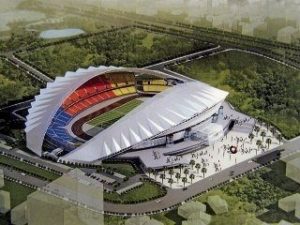 By TCRN Staff

Construction of the new National Stadium, which will be able to comfortably seat over 35,000 fans, is right on track.
Nine months after work began, the Chinese company in charge of the construction is now beginning to install roof structure in the southwestern part of the structure. Icode authorities expect to be completed end of February all the placement of the roof.
Anhui Foreign Economic Construction (AFEC), responsible for building the sports arena, has a deadline for delivery in February 2011 and at their current pace, that should not be a problem.
"The workers are very fast, which is how these people work, construction is about 55 percent complete.", commented Osvaldo Pandolfo, Deputy Sports Minister.