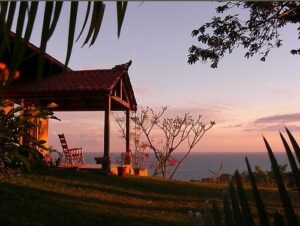 Anamaya Yoga and Health Resort is a new boutique hotel built upon a cliff edge, with some of the most beautiful ocean views on earth.  It's a few minutes walk from epic waterfalls, and surrounded by primary forest.   Anamaya is located in Montezuma, one of Costa Rica's most idyllic tropical beach towns.  Anamaya is a Sanskrit word for "good health" and that's the focus of our hotel. Our unique resort offers gourmet organic food, yoga classes and retreats, a variety of luxurious health and spa services such as massage and acupunture, and an array of retreat packages, workshops and classes.

Anamaya also offers its guests exciting fire dancing and circus entertainment experiences and sometimes beginners classes and retreats too, a variety of local beach and jungle adventure excursions, and intimate and unique accommodations to create an exotic and memorable experience of visiting Costa Rica.  Anamaya strive's to create for our guests a once in a lifetime travel adventure.
Experience one of the world's "Blue Zones" by staying at Anamaya.  Montezuma is located in the southern Nicoya Peninsula on the Pacific side of Costa Rica, which has been designated one of the world's Blue Zones by author Dan Buettner.  This is one of only a handful of areas in the world where the people have been proven to live the longest and healthiest.  Anamaya's guests know they've discovered a very magical place during their stay at the Anamaya Resort, and you'll find out more about yourself, and a few secrets about health and longevity.
Amenities:
You will enjoy the tranquility of our tropical rainforest and the comforts of a refuge in charming and unique private cabinas.  Anamaya offers:
Sunrise Yoga Deck with panoramic views of the ocean and jungle canyons
Anusara-Inspired Yoga Classes every day
Massage on a hillside rancho overlooking the peninsula
Acupuncture and Chiropractic services
Infinity pool with waterfall and sunbathing area
Infrared sauna for deep heating and healing
Healthy snacks, fruit smoothies and fresh juices
Organic cuisine with raw and vegan options if desired
Small events venue for lectures, classes, or movies
Wireless high speed internet
Blood purification, brain tuning, electromagnetic pulsing and ozonated water
Guest performances – fire-dances, aerial/silk trapeze acts, musical performances, etc
Costa Rica adventure tours such as canopy tours, Rainsong Wildlife Sanctuary, surfing lessons, horseback riding, nature hikes, quad tours, snorkeling, scuba diving (including certification), kayaking, and more…
Retreat Packages:
Anamaya offers a variety of special 3 – 14 day inclusive retreat packages. The assortment of retreat packages will include:
Yoga Retreats
Aerial Silk Trapeze and Circus Skills Workshops
Raw Food Intensives
Longevity and Anti-Aging Classes
Creative Arts Camps
Cleansing, Weight Loss, and Natural Detox Programs
Emotional Healing Retreats
Accommodations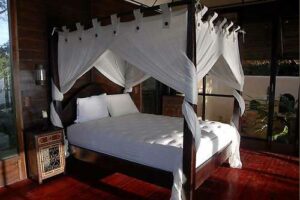 Enjoy the beauty of the rainforest and the comforts of a refuge in charming private cabinas.  Most have break-taking ocean views or overlook the jungle.  Monkeys and other wild animals are frequent visitors to the resort since we border a primary jungle reserve next to Montezuma Falls.
Our rooms/cabinas are elegantly designed with the details focused on protecting the environment. Anamaya is proud to have used non-toxic building materials, organic fabrics, and local artisans whenever possible to complete its stylish and intimate accommodations.   Each cabina is unique, and there are only seven units available, so book your visit to Anamaya early.
If you are interested in being featured on The Costa Rica News, contact us via the contact form on our contact page, or email us directly at [email protected].