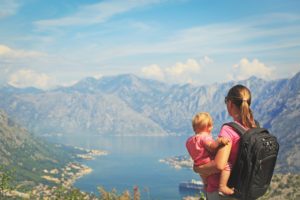 Traveling with kids can be a very stressful experience, especially when there is more than one kid or if the kids are too young.
So, what helps to make it less stressful is first, create a schedule that allows having fun activities that may help kids to deal with the time they will spend on the road.
TIP: Get updates on upcoming Costa Rican Retreats & Events by joining our newsletter. Don't miss out on what's happening around you! Click here.
If your kids are old enough, you could prepare them for how long will they be out of a home and what will be the trip's itinerary.
Another thing that might be really helpful is to use beverages that might relax them, such as organic infusions, they are good for parents and for children to keep everybody's cool in long trips or even when it is taking too long to actually get on the plain or the boat.
What can we do before taking the trip?
To avoid any more stressful situations, it is necessary to get early enough to the place where you will get off to start your trip.
Also, another recommendation will be to pack up comfortable clothes like a blanket or jackets and sweaters if the temperature gets really low.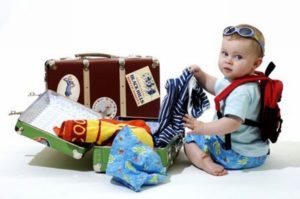 Now regarding the hand baggage, instead of filling it up with personal things it is better to have changes of clothes for the kids, or toys even wet towels for children in case of any discomfort or even if they get bored from the trip.
Even if it is a little bit unpredictable, at the moment you are booking the flights or getting the tickets think of the kid's eating schedule or their rest schedule, especially if they are very young, because these precautions will help you avoid any additional stressful situation that would be a headache for the parents.
If it is impossible to make stops in meals time or during rest time then have a backup plan at hand to deal with these situations.
Keep them busy as long as you can
For short trips you can have some comic strips or comic books, also crossroads could be helpful; now for the youngest one maybe some geometric figures that fit in a table or a figure can help, or even figures to paint on would be a great asset for their imagination.
On the other hand, if the trip will be on an airplane take into account the atmospheric pressure changes, for the little ones, you might use their feeding bottle or even the pacifier for any an earache and for the big ones you might use some gum or candies.
Also, candies or snacks for your nearest trip mates can be a good idea or help them cope if kids get difficult.
Another useful tip would be to have fun facts about the places you are visiting which could be interesting for the oldest one and for the little ones maybe singing some songs or playing games with things you are seeing over the windows can be really fun.
Always have a plan B at hand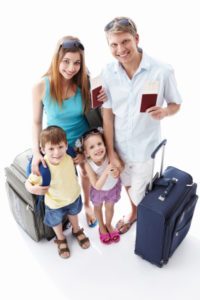 Having in mind that kids' behavior can be unpredictable must keep us alert to unfold our plan B, having said that there are some Android apps that can be a good option to keep them entertained, and also through the internet there are several others that can keep them busy for a few hours.
Also, you can bring videos of their favorite shows or songs, that might keep them entertained for a while.
Similarly making a list of activities that would make them calm and also open them to new adventures when they get to the place will be very useful.
Making the best experience out of trips
The most important thing to remember is not to lose focus on the trip and be already stressed and worked up before the trip even begins if all planes fail then improvise at the end of it parenthood is a journey that does not go with perfect plans in every moment.
Remember that every trip starts at the very moment of early plans to make it enjoyable for you and the kids from the start; and one last tip: if the place you are going to is a place where you have already been, then tell your kids about places you know, and memories you have over the place, in that way you will create some expectations that will keep them interested along the way.