Gabriel Solís is a 1st-grade boy at the Monterrey School, in San Pedro de Montes de Oca. After several weeks of not being in classroom classes due to the emergence of the Covid-19 coronavirus, he returned this week to receive virtual lessons. However, Gabriel was surprised that his best friend was not present, as he does not have a computer at home.
This motivated him to use his project to sell plants for ₡ 500 to raise funds and donate a computer to his friend. "If you want to help me, you can make a donation and I will give you a "suculenta" (a xerophytic plant). Let us all learn equally", Gabriel says in a video he posted on Facebook.
Alejandro Solís, Gabriel's father mentioned that the situation that his son's best friend is going through is very narrow since he has 3 more brothers and his mother sees alone for all of them. "Gabri used to tell us that he wanted to give him a computer and help him. First of all, we thought about getting it and donating it, we decided to support Gabri and he sells suculentas as a hobby. It was a matter of motivating his solidarity value with his colleague, what motivated us to do the video", Alejandro said by phone.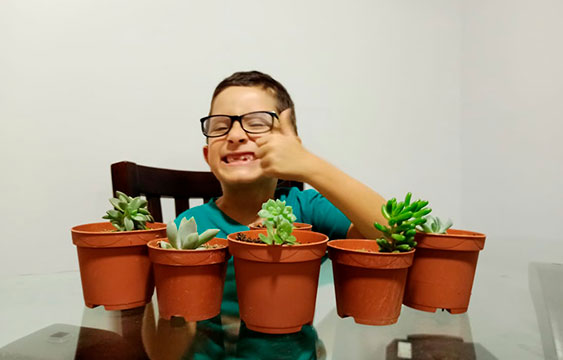 Solís said that they have already received some donations, and that they are waiting for a used computer so that they can donate it to their son's friend. "We hope that we can also help other children, the teachers at the school are very motivated with this. What is sought is an inclusion for all", he said.
The child will be able to connect to the internet since at this time the telephone operators provide a free connection to connect to Microsoft Teams and the site of the Ministry of Public Education. "Suculentas have symbolic value, but if people can donate something else, the plant will be a reminder of the support they gave this student", said Gabriel's father.
Gabri's dream finally comes true
The dream of Gabriel Solís to buy a computer for his best friend, so that he could return to classes virtually, came true last Saturday night, May 9th, after hundreds of people showed solidarity with the cause of the 1st-grade boy.
"Gabri", as he is affectionately called, had the idea of ​​selling suculentas that he cultivates himself to raise funds and help his classmate continue with the academic cycle that both study at the Monterrey School, in San Pedro de Montes de Oca. "I am 'super super mega happy', I have not yet told my friend, it is a surprise for him, and now I will be able to see him for the classes", he commented via telephone.
Alejandro Solís, Gabriel's father, mentioned that this Saturday night the 200 suculentas that his son had cultivated were exhausted. In addition, the Gollo company contacted them to offer a computer, this Sunday morning Grupo Monge also offered to donate other equipment, as well as other people offered to give used computers, but in good condition. "We are all very happy, we have received many samples of solidarity from all over the country, and Gabriel has achieved his goal, in addition to selling all his plants", said his proud father.
Solís explained that he and his wife decided to end the campaign, since, although they wanted to help more colleagues of their son, they do not have the platform to do so. "We want to make a kind of committee at the school so that for the sake of transparency donations are made more officially and that the school also certifies that all these supports reach those who need it most, in addition to Gabri's friend who was the one who motivated us to do all of this", he said.
The boy's father mentioned that a company from Poás and a person from Moravia also donated more plants to cover their demand. In total, they managed to sell 300 plants with which they were able to collect close to ₡ 800 thousand, a fund that they will give it to the school.