Yoga is not Sanskrit for stretching; it actually means to join or unite.  Yoga is a combined spiritual, mental, and physical practice.  Most yoga poses focus on flexibility and strength, and each pose involves different groups of muscle functioning which is intended on developing awareness in the physical and mental realms. Gokulacandra (Jani Jaatinen) started exploring yoga in 2000.  He has been practicing both Hatha and Shtanga every day for over 13 years, and has integrated those spiritual practices of yoga flexibility and mobility as a big part of his life.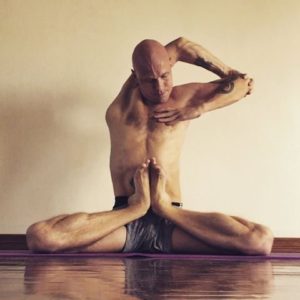 This coming October, Gokulacandra will be offering a few different workshops at Krama Yoga Studio.  In September 2012, Gokulacandra moved to Kota Kinabalu, Malaysia with his wife, Jaci, where they operated their own yoga shala called Gojul Yogashala.  Known for sharing his love and knowledge of yoga flexibility and mobility in a dynamic, clear and generous manner, he travels internationally to teach and conduct workshops and retreats around the world.
I had the privilege of interviewing Gokul, and here are some of his answers:
Will this be your first time teaching/visiting in Costa Rica?
Yes, and I am happy and grateful to have this opportunity to come to Costa Rica.
Tell us about your future plans and visions for your teachings.
We are currently working on our Teacher's Training Program here at Gokul Yoga, Kota Kinabalu, Malaysia. Personally my main interest at the moment is teaching pranayama, meditation, and yoga philosophy.
What can people expect during your workshops?  Are these workshops only for advanced students?
We are going to work more on techniques, alignment, and bandhas. I have designed workshops so they are suitable for all levels of yoga flexibility and mobility.
How did yoga change your life?
I'm happy that I have been able to work with so many wonderful people over the years. Yoga made life more meaningful and full. One of the big realizations is that yoga is to serve, to serve God, serve the teachers, and serve those who come to study with you.
Who is your greatest inspiration and why?
My Gurudeva Bir Krishna and yoga teacher, Yogasiromani Jayananda (Janne Kontala). What I do now and where I am now is mainly based on their teachings.
His workshops at Krama Yoga Studio will be focused on hip opening, arm balancing, chest and shoulder opening, back bends, and inversions.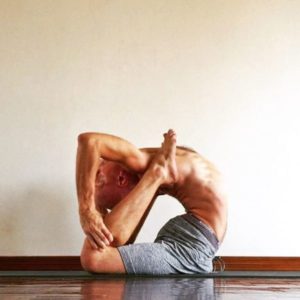 Here is more information on the upcoming workshops at Krama Yoga Studio:
Hip Opening Workshop
The stress and activity of everyday life can often cause us to habitually move in certain ways, and be in positions that lead to tightness and discomfort in our hips. In this workshop, we will focus on yoga asanas (postures) that will help release the tightness, tension, and pain in this area of our body.  This will be a deliciously challenging and flowing vinyasa sequence that will begin by creating heat and mobility in the joints, and end with the long deep hip openers that our bodies crave!
Arm Balance Workshop
Arm balances build focus and concentration, and increase our body awareness and connectivity to the breadth. They work to cleanse the nervous system, and exhilarate the body and mind.  In this workshop we will play with techniques that serve to lengthen and strengthen the muscles required to successfully find your balance, whilst maintaining lightness in the body. For those practitioners who are a little more advanced, we will introduce a variety of fun and challenging ways to transition to the next level of yoga flexibility and mobility.
Chest & Shoulder Opening Workshop
Many of us spend so much time hunched over a computer that it's impacting our posture and the health of our spine. In this workshop we will prepare the body and practice a range of movements to open your chest and shoulders. We'll focus on cultivating a strong awareness of your own body's range of movement, and explore techniques to enable you to expand this range over time in order to develop your on-going practice.
Back-bending Workshop
Back-bending can be one of the most challenging postures in our asana practice. Learn to back-bend with strength & integrity in this workshop. We will find more space in your back bends, whilst developing safe preparatory back bending skills that you can incorporate into your own practice. Many options will be offered to accommodate those with mobility restrictions. All are welcome.
Inversions Workshop
The inverted postures of yoga are some of the most beneficial, yet intimidating of the asanas. You will be introduced to and practice postures such as headstand, forearm stand, handstand, and more. You will be guided through alignment, technique, proper modifications, and feel how to develop the power in your core strength.  Learn to use the wall, or a buddy, as a way to continue practicing inversions beyond this class.
To book your workshop, contact Krama Yoga.
Follow Krama Yoga on Instagram and Facebook for all the updates on the latest workshops in Costa Rica.