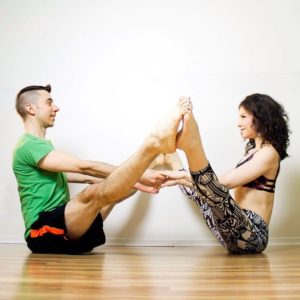 On May 21st at the Nosara Yoga Institute (NYI), thirty people gathered for massage, yoga, chocolate-covered strawberries and lots of laughter. In the process, they raised over $400 for the Escuelita de Verano, a free summer camp for the children of Nosara.
4 Four yoga instructors from Canada, Switzerland, and South Korea, but each living here in Nosara, designed and facilitated the evening. Tara Casagrande, Islena Faircrest, Youngjoo Jung, and Jane Marchant, created the two-hour event, in which Marchant and Jung led fourteen couples through the invigorating program of partner yoga and massage, known as Pranassage. Pranassage was developed here in Nosara by Amba Stapleton of NYI and Jung and Marchant are certified teachers of the practice.
Faircrest opened the session with stories about friendship. Casagrande closed the evening with a relaxing, partner-version of Shivasana—the classic finishing pose in yoga. Halfway through the evening, all were treated to an extraordinary display of professional belly-dancing by Nadia Sklema , who wore a stunning silver winged outfit. Participants left feeling connected with their partners, relaxed, and reinvigorated.
Sarah and Erik Antonson were among the couples in attendance. "The night was a really creative way to raise funds for the Escuelita," said Sarah. "And, it was a great way for my husband and me to get out for an untypical evening in Nosara and to relax together for a great cause."
Katy and David Tutton also attended the evening and twisted and massaged each other into relaxation. "It was really a well-thought out and fun evening introducing an alternative way for partners or friends to loosen each others' bodies," said Katy. "Jane, Tara, Islena and Youngjoo welcomed us to the NYI with a warm candle-lit environment, guided us through their introduction to Pranassage with enthusiasm and expertise and spoiled us with chocolate covered strawberries and the presence of a magical oriental dancer."
Marchant said that the four women, wanted to use their talents to give back to the community. "We wanted to raise money for the Escuelita and we wanted to share Pranassage with the community. Two great things came together into one!" She also went on to say that she "loved the great variety of people, all sharing the same experience." The twenty-eight attendees included folks of all backgrounds—Ticos, long-term foreign residents, and sabbatical types; young and old; married and not.
Nosara Yoga Institute donated the space, the teachers and dancer donated their time, wisdom, and talents.
Contact Natashia founder of Follow Your Bliss, she would be happy to assist with any questions relating this article.  Follow Your Bliss offers a variety of retreats in and around Costa Rica, they also distribute specialty drinks like kombucha, chaga tea and cold pressed juices. 
Email:  [email protected] or