The low-cost airline "Viva Air Peru" will be able to fly to 21 countries in Latin America after receiving authorization from the Ministry of Transportation and Communications (MTC) to offer the non-regular international air transport service (without a certain frequency), passengers, cargo, and mail.
A resolution of the MTC specified that the destinations to which the company can fly are El Salvador, Guatemala, Honduras, Costa Rica, Nicaragua, Panama, Cuba, Jamaica, Haití, Dominican Republic, Argentina, Bolivia, Brazil, Chile, Colombia, Ecuador, Paraguay, Uruguay, Venezuela, Guyana, and Suriname.
Last April, the ministry had already granted it permission to make regular flights to Colombia, Bolivia, Argentina, Ecuador, Venezuela, and Panama. With the non-regular type of service license, the low-cost airline will have the possibility to explore new markets with the launch of international flights in seasons of high demand in any of the countries mentioned.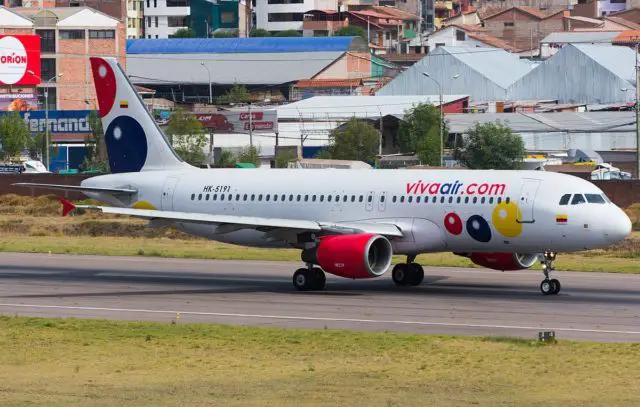 The company announced that its 1st international route will be to Colombia and that it will start selling those tickets from next July, while for the other routes there is still no scheduled date. Its general director, José Castellanos, told the economic newspaper Gestión last April that the company is "exploring the possibility of opening an office in Ecuador".
Viva Air currently offers trips to the Peruvian cities of Arequipa, Cusco, Iquitos, Piura, and Tarapoto, as well as a connecting service between Perú and Colombia.
To meet the demand of international destinations, the company has also reported that it will incorporate 2 new Airbus A320 aircraft to its fleet of 3 aircraft with which it currently operates domestic flights to Iquitos, Piura, Tarapoto, Cusco, and Arequipa.
"This type of permit gives the company ample flexibility to take the pulse of new places. When the service begins to consolidate in any of the new countries, the next natural step is to look for a regular service license to offer flights with a specific frequency. That is what Viva Air Peru would aim for", Carlos Gutiérrez, general manager of the Association of International Air Transport Companies (AETAI), told Peru's El Comercio newspaper.
The AETAI executive also said that the entry of Viva Air Peru to this segment of the commercial airline sector will generate more competition with airlines such as Latam and Avianca, which offer international flights.