Have you ever wondered if there's something beyond this 3D reality – this "matrix" we live in? Is there a way to escape the matrix and find freedom, sovereignty, truth? Vision Quest provides a dynamic way to challenge your everyday concept of reality and what is possible.
Consciousness isn't a journey upward, but a journey inward. Not a pyramid, but a maze. Every choice could bring you closer to the center or send you spiraling to the edges.
This trek through the jungle with the support of sacred plant medicines will push you to your physical and mental limits and challenge you to step beyond them. If you have found your truth within yourself there is nothing more in this whole existence to find…you learn how to be an infinite, limitless creator connected to pure Source.
What is Vision Quest? Empowerment. Serenity. Gnosis
Vision Quest: Phoenix Rising is a journey of self-awareness and discovery of spiritual mysteries.
We surrender to the wisdom of the jungle, stay present in the moment, lead from the heart, and honor the great beauty all around us to rise up a sisterhood of phoenixes. The stillness of the heart listening to the flow of the Universe will provide the surrender and serenity of Love.
Vision Quest is an opportunity to empower women to create a life of freedom, strength, balance, serenity, and connection to spirit. This journey begins with a rebirth in the womb of the Earth at a traditional temazcal sweat lodge, followed by a highly challenging trek through the jungle on peyote (barefoot encouraged), and ending with a sacred plant medicine ceremony.
Due to the high-risk nature of Vision Quest, space is limited to 10 women maximum for safety reasons.
Through this perspective-blasting trek in the lush Costa Rican jungle alongside our sisters, we find inner vision and create a life of truth. We choose to be radiant, contented, blissful…a phoenix song unto ourselves. Our whole lives becomes a prayer without any words, or better to say a prayerfulness, a grace, a beauty which does not belong to our mundane world, a ray of light coming from the beyond into the darkness of our world.
"When you open yourself to the continually changing, impermanent, dynamic nature of your own being and of reality, you increase your capacity to love and care about other people and your capacity to not be afraid. You're able to keep your eyes open, your heart opens, and your mind open. And you notice when you get caught up in prejudice, bias, and aggression. You develop an enthusiasm for no longer watering those negative seeds, from now until the day you die. And you begin to think of your life as offering endless opportunities to start to do things differently." – Pema Chödrön
What does Vision Quest Include?
Blue Clay Beach Day with Vide Blue Healing Clay
5 nights accommodation in the heart of the Costa Rican jungle
Traditional Temazcal Sweat Lodge
Vision-storming purpose and intention discovery workshop
6 hour guided trek through the jungle on peyote (fasting during the trek)
Rapé/Romé Potó indigenous medicine for focus, clarity, and alertness
Ayahuasca sacred plant medicine ceremony
Organic, nutrient-dense plant based meals
Vinyasa yoga and meditation
Sound healing with Tibetan Singing Bowls
Blue clay beach day (with Vida Blue Healing Clay from Buenaventura)
Heart opening cacao ceremony with live music as a closing integration circle
Transportation to and from Vision Quest 🔥
Additional add-ons available on-site
Tribal tattoo by local shamanic tattoo artist
Massage
Acupuncture
Reiki sessions
DMT ceremony
Kambo Frog Medicine
Due to the high-risk nature of Vision Quest, space is limited to 10 women maximum for safety reasons.
Phoenix Rising Schedule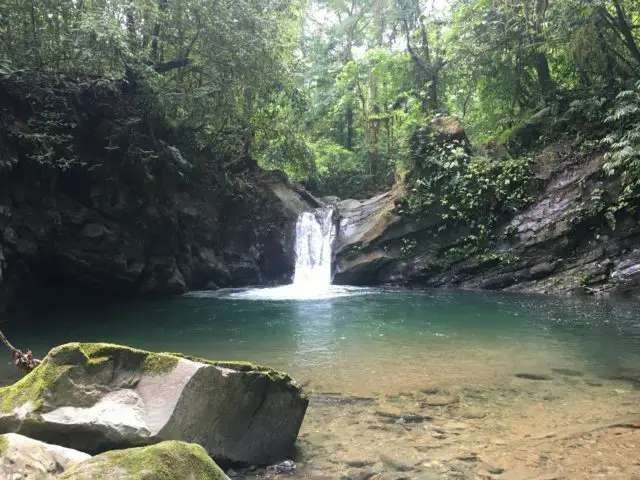 Day 0: Thursday, October 5
Suggested arrival at San Jose Airport (SJO), Costa Rica
Day 1: Friday, October 6
Pre-Quest Rendezvous
10am Shuttle pickup at San Jose Airport
1:30pm Stop in Dominical for lunch at our favorite spot, Mono Congo (with access to beach)
3pm: Arrival and check-in at Vision Quest headquarters
5pm: Sunset temazcal sweatlodge
8pm: Organic dinner
Day 2: Saturday, October 7
Vision Quest Journey
(begin fasting)
8am Vision Quest Trek (with peyote and rapé ceremonies along trek)
3pm Arrive back at headquarters for rest and ceremony prep
8pm-sunrise Ayahuasca ceremony
Day 3: Sunday, October 8
Integration & Celebrations
10am End fast with organic breakfast
11am-4pm Massages
1pm Organic lunch
3pm Yoga (optional)
7-11pm Rite of Passage Celebration (organic dinner feast and optional shamanic tattoo by local artist)
Nicole on Vision Quest trek in Diamante Valley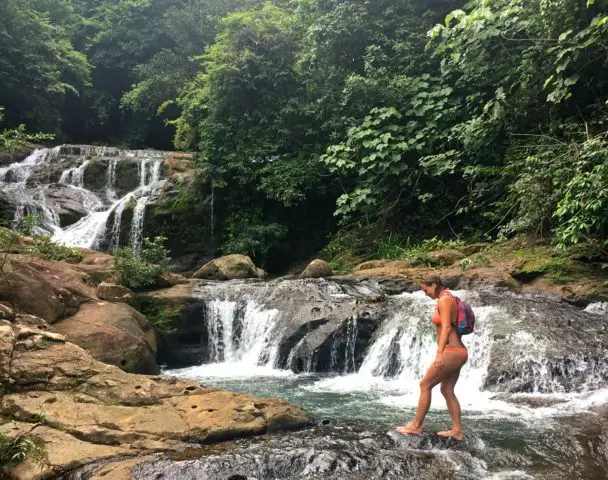 Day 4: Monday, October 9
Ascension
8am Organic breakfast
10am Paragliding, SUP, or rappelling from waterfall
1pm Organic lunch
2-5pm Blue clay beach day with magic mushrooms
7pm Organic dinner
Day 5: Tuesday, October 10
Serenity
8am Organic breakfast
10am Yoga/Pilates/Core
11-1pm Free time for beach time or bodywork sessions
1pm Organic lunch
5-7pm Cacao ceremony with sound healing
7pm Organic dinner
8:30pm: Optional DMT session
Day 6: Wednesday, October 11
Closing
9am Farewell Brunch
11-2pm Checkout and departure shuttles to San Jose Airport (SJO)
Where does Vision Quest: Phoenix Rising take place?
Nauyaca Waterfalls in the Diamante Valley
Vision Quest is held in the sacred Diamante Valley of Costa Rica, one of the world's most biodiverse regions. We are dedicated to supporting the Diamante Valley community with the mission of co-creating an ecologically harmonious world and regenerative, sustainable future for all life.
The Diamante Valley is sacred land tucked away below a lush green mountain where ancient indigenous tribes once lived. Many artifacts have been found on this area and there are many sacred sites around. The ever-flowing river has cascading waterfalls, full of wildlife and magic, where the jungle speaks and offers a sacred space of support, silence, and healing for our journeys with power plant spirits.
Choose from the upcoming Vision Quest dates:
Peyote ceremony along trek
Phoenix Rising: October 6-11, 2017 (women only)
Surrender to the Jungle: December 4-10, 2017 (simultaneous men and women)
Create Your Reality: January 10-16, 2018 (women only)
Gnosis: Knowledge of Spiritual Mysteries: February 17-23, 2018 (pre-Envision, co-ed men and women)
Check out this video of our epic men's Vision Quest: The Journey Within from their quest in August 2017
Click here to read about the men's journey.