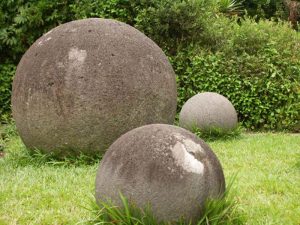 Costa Rica announced that the nomination to UNESCO for the Cultural Heritage of the Humanity for the Costa Rican pre-Columbian stone spheres was accepted. These stone ancient stone sphere s are unique in the world and were the work of the Boruca indigenous tribes in Southern Costa Rica and were used for astronomical, social and artistic purposes.
Costa Rica submitted the spheres on four archaeological sites in January of this year and UNESCO announced this week that the submission has been accepted, said Costa Rican President, Laura Chinchilla.
The stone spheres, with a perfection in roundness of 95%+, were created by the Boruca Indians of Southern Costa Rica between 400 and 1500 AD, and have so far there have discovered approximately 200 of them although they believe there are many more hidden in the forests and buried.
The application involves the areas in four archaeological sites: Villa 6, Batambal, Grijalva, located in the Delta of Diquís, Puntarenas province, in the South Pacific region of Costa Rica.
The largest of the spheres is 2.57 meters in diameter and 15 tons in weight.
Chinchilla said that at first glance these Costa Rica artifacts are "more modest" than the works of other American cultures such as the Aztec, Mayan or Inca, but noted that these artifacts have their own unique history and heritage
"They bring together a set of puzzles with unique humanistic and cultural traits of our society… and it's time for Costa Ricans to understand that we do have an archaeological heritage," said the president.
The stone spheres were discovered in 1939 on a former banana plantation, called Finca 6, in the town of Palmar Sur, Puntarenas province.
Many of these sculptures were removed from their original sites, destroyed or damaged by the myths that treasures could be hidden inside.
In Villa 6 is a group of spheres are still aligned in its original position, which archaeologists believe are related to the equinoxes, solstices and constellations.
Among the mysteries that surround these works is the way in which indigenous mobilized large blocks of stone from the remote mountains and as well the techniques used to sculpt the almost perfect spheres.
National Museum director, Christian Kandler, said at the press conference that Costa Rica must focus on protecting these archaeological sites.
"We have a huge challenge, the spheres are fragile, contrary to what they seem, they've suffered many centuries of being exposed to a difficult environment" with high temperature, sun, rain and fungi, Kandler said.
The Government of Costa Rica expects to open the Spheres Park in Villa 6 to the public in July for Costa Ricans and foreign tourists appreciate this truly unique and indigenous heritage.
The Costa Rica News (TCRN)
San Jose Costa Rica