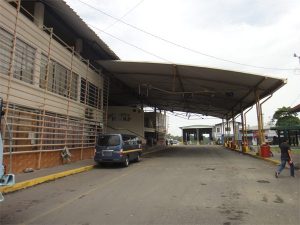 Costa Rica Truckers remain barred to cargo passage across the border with Panama to demand that the country stop the "abuse of authority" of the State Border Service of Panama (SENAFRONT), said an industry source.
The president of the Chamber of Costa Rica Unitary Carriers, Marjorie Lizano, said that the Paso Canoas border no step for tourism and light vehicles, but not for freight.
The strike began on Thursday and so far there are about 400 trucks parked on the roadside, both Panamanian and Costa Rican side.
"There is an abuse of authority SENAFRONT. Arrested cargo vehicles and touring with plates (registration) Costa Rica for three or four hours, then the traffic police makes a part (offense) and take away the keys and documents" he said.
According Lizano, the authorities do not return the keys and documents until the violation is paid, even though Panamanian law gives a period of one month to do so.
The leader said the strike on the border will continue until there is a demonstration of the Panamanian government to remedy the situation.
Lizano said that in his country have sent letters explaining the situation to the Foreign Ministry, the Presidential Palace and the Ministry of Foreign Trade (Comex) and the Costa Rican consulate in the Panamanian city of David.
However, no reply has been received, except Comex, that he was "very attentive" to what happens, said the leader of carriers.
On October 4 Panama and Costa Rica have agreed to extend the deal of mobility of their citizens in the border area, including vehicles, to resolve a dispute by overcharging fines from the Costa Rican authorities to drivers Panamanians, but the situation also persists.
The Panamanian complaint is that Costa Ricans apply a penalty equal to the tax entry when stopping a vehicle in this country that did not meet the requirements for Costa Rica to enter its territory.
Even on 6 February, the Costa Rican President Laura Chinchilla said after meeting with his colleague in Panama Ricardo Martinelli, said he would review the detention of cars Panamanian territory of their country, without elaborating.
The Costa Rica News (TCRN)
San Jose Costa Rica