At that moment my feet were submerged in hot water inside of a beautiful metal container, floating petals, and leaves. Around me, shelves full of small jars that looked like potions, in all of the white atmosphere there was serenity. These holistic aesthetics consulting room is located at Lily´s house, in the sunny neighborhood of Los Laureles in Escazú.
I discovered Lily on Instagram, and she called a lot of my attention because I had only heard of holistic aesthetics either in New York or California, I immediately contacted her to find out about her work with crystals for the skin and I verified that she is the only certified specialist in holistic aesthetics in the region. So there we were…
"I deepened and continue to deepen my studies on different methods, based on traditional Chinese medicine, to help my clients make positive decisions about all aspects of their health. Due to the art and science involved in specialized facial massage (from its powerful stimulating, restorative and healthy aging abilities, to the influence it can have on the relief of stress and well-being of the whole body), I am continuously learning and creating new techniques to incorporate several facial massages from around the world that resonate with my philosophy of holistic skin", she says.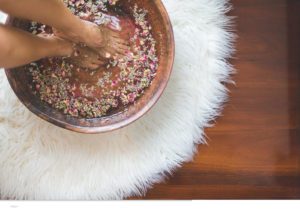 We entered the next room, reviewing each of the windows of the counter and the variety of clays with which she works, I lay down on the table and for the next forty minutes enjoyed the aroma of the oils mixed with the cold sensations of each jade and quartz on my skin. In my hands, I held a pair of amethysts, and other crystals felt heavy on my chest, generating harmonious vibrations throughout my physical body.
Healing with crystals 
Crystal healing therapy is based on the idea that all matter is composed of energy, and crystals have energy that resonates with natural vibrations in the human body. In addition to having antimicrobial, antibacterial and anti-inflammatory properties, the precious minerals found in crystals and gems also have toning, firming and regenerative properties.
The crystals work by increasing the positive healing energy and extracting negative energy from the body. Based on the idea that any physical manifestation of a disease begins with a lack of harmony in energy, the use of crystals for the body to return to the flow produces positive results for the skin as well.
The crystals not only feel good on the skin but also provide a specific cellular supply, microcirculation and the ability to balance and harmonize the skin. It is this energy factor that makes the crystals so effective, especially when it comes to the complexion. Among the many properties of crystals is a soothing and relaxing effect, some help to eliminate toxins, others increase blood flow.
My biggest surprise during the therapy was that not only did I feel my skin breathe again, but there was a subtle change in the vibration of my body, I was able to connect with that strong energy of each crystal and I received much more than a beauty session, It was like receiving Reiki.
"The use of crystals in my practice is also for balancing the seven energy points of the body, which if unbalanced, manifest a series of ailments or illnesses, both physical and emotional. Each chakra has its own crystal and that's how I know which one to place", says Lily.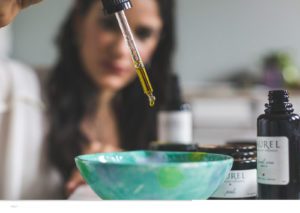 A new vision 
The concept of holistic skin care means that the skin cannot be treated as a separate entity from the whole body. The skin, being the largest organ of the body, performs many functions, which occur in association or depend on the functions of the internal vital organs. While many in the industry believe that holistic skin care is simply the practice of using non-invasive treatments and products that contain mostly natural and organic ingredients, this is only the beginning. The concept of holistic skin care must be deeper if you want to achieve sustainable results. In the holistic care of the skin, as well as in the traditional modalities of holistic healing, such as Ayurveda and traditional Chinese medicine, a person's skin is a reflection of their internal health.
What are we eating and which beauty products are we using on a daily basis, are some of the questions we must ask ourselves if we want to discover beauty from a conscious place. I learned that there is a huge value in investing in care products that go hand in hand with my health ideology, plus they feel delicious! That is just the key to Lily Mizrahi, in her hand's skincare becomes an integral pleasure that encompasses our body, mind, and soul.
Mar Espinal
https://www.instagram.com/yogatropical/
https://www.facebook.com/yogatropical/
http://www.yogatropical.com/