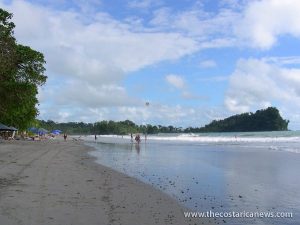 TCRN Regional Correspondent: Katrina Palmer
Imagine yourself soaking up the sun on a stunning white sand beach, surrounded by luscious green rainforest that in some spots sneaks out to the edges of the surf. Encompassed by this beauty, the dazzling warm waters beg for your presence whether it be for swimming, surfing, scuba diving or snorkeling. You can hear the echo of the Howler monkeys in the distance while you watch mesmerizing leaf-cutter ants hard at work, cheeky white-faced monkeys playing in the trees nearby, and a vibrant glistening sunset over the ocean. Welcome to Manuel Antonio and Quepos!
Manuel Antonio and Quepos are two separate but certainly interdependent, exciting towns located in the Puntarenas Province on the Central Pacific Coast of Costa Rica. These two towns are a melting pot of families, surfers, back-packers, eco-enthusiasts, scientists and artists; and each town has amazing things to offer up to any type of person!
Quepos
Known as one of the best big game sport-fishing destinations in the world (with Marlin, Sailfish, Snapper, Amberjack, Wahoo, Billfish, Roosterfish and Yellow Fin Tuna in abundance here), Quepos is now a far cry from the tiny banana port village that it started out as. The village centre is lined with restaurants, bars, bakeries, hotels, bookstores, clothing stores, art galleries and gift shops. It is not at all surprising that a friendly, exciting nightlife also exists here with bars and clubs lining the way between Quepos and Manuel Antonio beach. In February, the town comes alive for the Festival Del Mar – a month long fiesta of concerts, sporting events, parades and street carnivals that lures amazing performers, dancers, and spectators from all over the country.
In the late 1800's, vast Chiquita banana plantations were developed on this land and so began the shipping to world markets across the docks that are now home to the sports-fishing fleet. Unfortunately, disease in the 1980's wiped out most of these plantations and they were later replaced by African Palms, which now provide the rich oil used worldwide in products such as industrial lubricants and cosmetics. Named after the native Quepoa Indian population encountered here in 1519, Quepos is the gateway to beautiful Manuel Antonio (just 7 kilometers away), where tourism is the leading industry.
Manuel Antonio
Manuel Antonio was also once a tiny village, but has now blossomed into the most popular beach destination in Costa Rica. On the hill overlooking the ocean, the break-taking panoramic views are some of the most picturesque and stunning in the country with accommodations to suit every budget. The two most popular beaches, Playa Espadilla and Playa Manuel Antonio, are connected by a "tómbolo," or natural land bridge, formed of sand accumulation. The half mile long Playa Manuel Antonio is rated as one of the top ten beaches in the world, sporting International Surf Championships annually.
Nestled beside the spectacular beach is the Manuel Antonio National Park. It is Costa Rica's smallest national park, but it is one of the most beautiful and bio-diverse areas in the world. And despite it's smaller size, it is the most visited National Park in all of Costa Rica, with up to 150,000 visitors annually in recent years. In 1994, the Park Service began limiting the number of visitors to 600 per day (800 on Saturday and Sunday) to prevent this gorgeous slice of paradise from being overrun. Established in 1972, Manuel Antonio National Park is a unique fusion of rainforest, mangrove swamp, beaches and coral reefs – 683 hectares of land and 55,000 hectares of sea. It is a blend of small beaches and bays bordered by a lively tropical green rainforest. With 109 species of mammals and 184 species of birds, a day visit can result in possibly seeing Black Spiny-tailed Iguanas, Green Iguanas, White-nosed Coati, Howler Monkeys, Two or Three-toed Sloths, Toucans, Motmots, Raccoons, and many rare plant species. Manuel Antonio National Park is also home to one of the last sizable populations of the endangered Squirrel Monkey.
So whether you are sport-fishing, snorkeling, surfing, scuba-diving, bird-watching, hiking, rafting, kayaking, canopying, mountain biking, horse-riding or taking Spanish lessons on a homestay program with one of the many Spanish schools – Manuel Antonio and Quepos have something to offer everyone! Spending some time in this amazing part of the world will ensure you capture and soak in some of the magic of this paradise.