Every year native English speakers hankering for an exotic life in a beautiful and politically stable Central American country flock to Costa Rica. Most have trust funds, pension plans, or money saved up and just sort of "live" there. Others don't have much in the way of financial support and need to find work. The one thing these folks have going for them is their native tongue, which currently is much in demand across Central and South America.
While a few international schools and universities hire people from abroad through job fairs, most ex-pats teaching English in Costa Rica are hired from within the country by small language institutes — companies that provide (mostly professional) clients with on-the-spot training and practice. This article will give you the unvarnished low-down on Costa Rica's English-training industry.
Who Gets Hired
If you are a native English speaker, have a bachelors degree, a professional demeanor, and a clear and articulate speaking voice, you'll be looked upon favorably by schools looking to hire. TESOL/TEFL certification is increasingly desired by hiring institutions. If you don't have this certification but would like to get itand possibly find a job, then you may want to consider going there as part of a training/placement program. There are also schools in Costa Rica for English speakers who would like to get certified. Most of these offer traditional homestays for those who enroll in their program.
The North-American Bias
Non-native English teachers and native speakers not from the U.S. and Canada will confront some bias. Because of the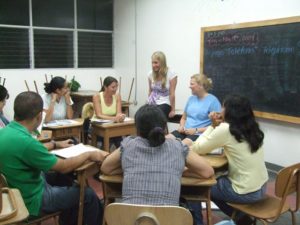 U.S.'s influence in the country, people with "North American" accents are sometimes preferred. If the U.S. influence continues to decline as it has globally since 2003, this bias in favor of "gringos" will dissipate. Native English Speakers from Australia, New Zealand, and the UK should not have trouble finding jobs, but non-native English speakers–no matter how fluent their English, and regardless of credentials–may encounter a reluctance by some companies to hire them. This is due in part to clients' insistence that their teachers be "native speakers."
Fluency in Other Languages is a Plus
Native English speakers capable of teaching other languages may prosper in Costa Rica. More and more professional Costa Ricans are eager to learn Chinese, for instance, because of that country's expansion of business interests to, and investment in, Costa Rica's infrastructure and tourism industries. German and French are also important for Costa Ricans working in tourism.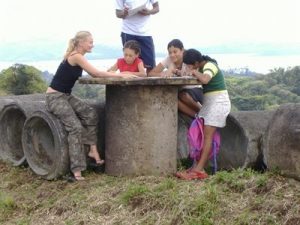 Location of Jobs
You should know that most jobs are located in and around the capital city of San Jose–perhaps the least beautiful place in Costa Rica. While some schools actually have classrooms, many send their teachers off to companies where classes are taught in conference rooms. This involves traveling by bus–sometimes several buses–for long periods of time that you are not paid for. During the six or seven months of the rainy season traveling around dressed in professional attire can present some difficulties, so potential teachers are advised to bring state-of-the-art rain gear and a very large umbrella.
Finding a Job
Most language schools don't hire people from abroad and won't even respond to email inquiries sent from overseas. The best way to get yourself hired is to personally visit the company. You should be well-groomed, professionally dressed, and have a resume to give them. If you can't personally visit the school, email them your resume and paste a small photo of you (like the one of me on this website, only less sinister) on the upper-right-side of your resume, next to your (preferably) Costa Rican contact information.
"Teaching at the Beach"
Most native English speakers dream of coming to Costa Rica and "teaching at the beach." There are very few teaching jobs in coastal communities. However, a handful of jobs do exist. If you want to live and work near the beach, then you need to locate yourself in that area. What I suggest you do is go to Costa Rica and try to land a job in San Jose. During your free time, travel to coastal communities–with professional attire and CV in hand–and personally visit some of the English language schools in the area. The fact that you already live and work in Costa Rica–and bear local professional references–will help. Be aware that the competition for such jobs is fierce and the pay low.
Salary Expectations
Pay ranges between $500 and $900 per month. It is possible to live on this income, especially if you have a roommate or two. Because there is much demand for native-speaking English teachers, it isn't hard to find a job. But one must be prepared to begin part-time in most cases. Once you "prove" yourself (that is, the students like you) then the possibility of getting more classes and, hence, a better salary increases. Some teachers rake in close to $1000 per month, but they also have killer schedules and usually work six-day weeks.
Typical Work Days
Most teaching routines usually include weekends. It is not uncommon for teachers to teach three weekends per month and get the fourth one off. The standard weekly schedule involves getting up very early to teach morning classes (sometimes beginning at 7 AM), having the afternoon off, and then teaching again in evenings between 5 and 9 PM. This "split-shift" routine is common across Central and South America.
By Kevin Cassell kevincassell.com/blog
Article feature image from http://www.thisiscostarica.com