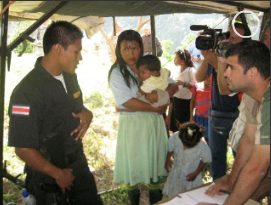 by ROGER AMORETTY
More than 500 residents of the remote community of Piedra Mesa de Talamanca received free medical care this week by professionals of the U.S. Southern Command and Costa Rican specialists.
TIP: Get our latest content by joining our newsletter. Don't miss out on news that matter in Costa Rica. Click here.
Doctors, pharmacists, dentists and ophthalmologists were on location as part of the humanitarian mission.
The experts were accompanied by a support team and drugs to alleviate and prevent some of the most common ailments such as colds, allergies and infections.
Doctors spent their time making diagnoses in children, women and older adults and handing out drugs to the patients.
Analgesics, anti-inflammatories and oral antibiotics were distributed along with antihistamines, allergy medications, decongestants, bronchodilators, topical creams, ophthalmic drugs, gastrointestinal and vitamins.
$10,000 worth of donated drugs were passed out.
Due to the remoteness of the place, it was necessary to use three helicopters, a CH-47 Chinook and two Black Hawks to reach the community.
This initiative was made possible by the work of the U.S. military in conjunction with the Social Security Fund (CCSS), the Ministry of Health, the Ministry of Security Police in the area, along with airport officials Limon.
Translation by TCRN Staff