Costa Rica is known for being one of the most visually stunning countries in Latin America. Travelers, tourists, and locals are always astounded by its beautiful landscapes and amazing wildlife.  Costa Rica has rain forests, volcanoes, savannahs, cloud forests, high mountains, among other natural beauties.  It is clear that this country is all about breath-taking natural wonders.  For instance, its famous and most definitely drop-dead gorgeous waterfalls and rivers.  So, if you are planning on visiting this magnificent country, the following waterfalls and rivers will be a dream come true.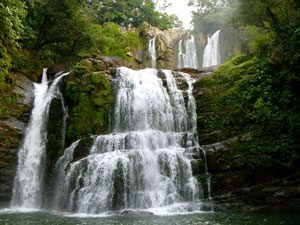 Nauyaca Waterfall: located in the mountains of the Pacific Southern Zone, it is probably one of the most magnificent waterfalls in Costa Rica.  It is divided into two tiers which tumble down approximately 65 meters into a natural pool that is 200 meters deep – great for cliff diving.  This waterfall is on private property, so taking a walk or a horseback-riding tour are your best options to enjoy the view. There are, of course, plenty of trees and wildlife to be amazed by.
Rio Celeste Waterfall: looking like a landscape out of a fairy tale story, this idyllic waterfall is one of the places you have to see to believe. This riveting pool of turquoise-blue water is definitely one of those places where your mouth will drop open at its incredible beauty.  It is known that the color of this pool is created by volcanic minerals.  It is found in the Tenorio National Park.
La Fortuna Waterfall: probably the most well-known waterfall in the country. 500 steep stairs must be scaled if you want to access this natural wonder, but don't worry, it is totally worth it.  Like many of the waterfalls in Costa Rica, La Fortuna tumbles down from a backdrop into a dazzling blue pool.  You might want to take a refreshing dip, and enjoy the view. Great! Isn't it?
Llanos de Cortez Waterfall: considered an oasis in the middle of the forests of the Guanacaste Province. To access the waterfalls, you have go through the parking area (an open lot), and then down for 10 minutes and voilà! You can now relax and enjoy the amazing view.  There are rocky cliffs visible through a transparent cascade. There is also a pool where people can swim or wade.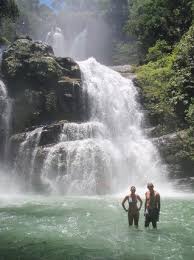 Diamante Waterfall: very remote waterfalls tucked away in the middle of the jungle. First, you need to know that in order to access these waterfalls, you will be hiking UP for about 2-3 hours. You will encounter a set of two waterfalls rushing over the cave entrance which, according to many, is what makes the Diamante Waterfall really special.
Los Chorros Waterfall: this local favorite is located between Chilamate and Tacares.  There are two big waterfalls, Catarata Zamora and Catarata Prendas.  These little gems are located just outside Grecia.  There are picnic areas with tables for eating lunch if you feel like it.  As obvious as it sounds, there are viewing areas for you to take pictures, and capture the beauty of this natural wonder.  By the way, remember to carry a pair of trail shoes to make this experience even more memorable.
Catarata del Toro Waterfall: this unique waterfall tumbles down into a volcanic crater.  Bright colors line the walls of the brilliant pool, and if you want to enjoy this natural beauty firsthand, you have to hike down at least 375 steep steps (sounds like a lot, doesn't it?).  But you will not regret it.  Also, if you love birds, you will see a lot of hummingbird feeders near the waterfalls.  You can also make a stop to treat yourself with good food at a great restaurant if the trip has exhausted you.
In addition to these marvelous waterfalls, Costa Rica also offers river-rafting tours for visitors on its beautiful rivers,.  These are said to be as great as any other natural wonder in the country.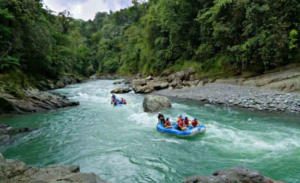 Three of the more famous rivers are:
Reventazón River: one of the most perfect rivers for rafting, fishing, and canoeing. The river's banks are full of thick greenery, which can be great for your enjoyment.
Tempisque River: said to alleviate the needs of local farmers in hard times, this beautiful river also adds to the beauty of the landscapes in Costa Rica. Located in the Guanacaste region, it is one of the most important rivers in the country, and is considered the main Guacanaste ''highway''.
Pacuare River: famous among rafting fans, this beautiful river is considered one of the best rivers in the world to enjoy white-water activities.  Its thick greenery adds beauty and excitement to the trip.
So, what are you waiting for?  When it comes to popular tourist destinations in Costa Rica, these are some of the greatest options you have.  Now you have to pack up your things, and come to enjoy an amazing experience.
Contact us if you would like some more great ideas on what to see and do in Costa Rica.