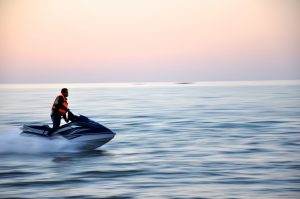 The Costa Rica News (TCRN) – Spanish adventurer, Alvaro de Marichalar, is close to completing a journey of 2,400 nautical miles on his jet ski between Florida and Panama with the goal of commemorating the voyage of Vasco Nuñez de Balboa, the first European to behold the Pacific Ocean, which he dubbed the "Southern Sea."
De Marichalar, who sails alone on his 3-meter-long (about 10 feet) jet ski named Numancia, stopped at Puerto Limon on Costa Rica's Caribbean coast and will continue his journey on towards Panama, which he hopes to reach next Wednesday.
The Spaniard, who left Florida on Dec. 12, had not planned to stop in Costa Rica, but the need for maintenance on his jet ski forced him to do so, giving him the chance to rest a bit and eat properly for a couple of days.
De Marichalar said that after his stop in Puerto Limon he will head toward Panama, specifically to Bocas del Toro and Colon, and after that traverse the Panama Canal and finally arrive at the capital city, next Wednesday – if all goes well.
On his journey so far, the Spanish adventurer left Florida en route to Cuba and then headed to Belize, Guatemala, Honduras, Nicaragua, Costa Rica and finally Panama, from where he will transit the Panama Canal and continue to Cartagena, Colombia.
The expedition is being undertaken to commemorate the 500th anniversary of the discovery of the Pacific Ocean by Balboa, aided by the native inhabitants of Panama's Darien jungle region.
Marichalar, who was born in Pamplona, Spain, in 1961, has established several Guinness records and has been presented with a number of Spanish and international awards. (EFE)
The Costa Rica News (TCRN)
San Jose Costa Rica