As my three month Costa Rican excursion drew to a close, I had the opportunity to visit one of the most aesthetically and spiritually moving places in the world. I was to embark on a yoga retreat at the Blue Osa, Costa Rica's own Versailles, tucked away along the coast of the South-Pacific Osa Peninsula. The retreat center is located at the crossroads between two of the natural world's best kept secrets: the vast blue waters of Golfo Dulce, and the deep mysterious jungles, namely those of the world renowned Corcovado National Park. The Earth's denizens travel from far and wide to experience the paradise created nearly six years ago by founder, Yogi Aaron.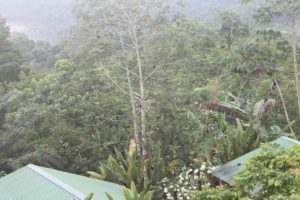 What is it to experience the Blue Osa Retreat Center? It's entering savasana and hearing one's own breath against the backdrop of cheerful scarlet macaws, stretching out in the studio and feeling one's heartbeat alongside the cool ocean breeze that dances across your outreached arms. To know Blue Osa is to know the taste of Mahi Mahi garnished in curry and coconut chips, a melt in your mouth meal to compliment a day's worth of yoga and exploration. Experiencing Blue Osa is taking in the sheer enormity of the Guanacaste trees, and stretches of shoreline, while recognizing that these natural monuments have been here long before man, and will remain long after we've gone.
TIP: Get our latest content by joining our newsletter. Don't miss out on news that matter in Costa Rica. Click here.
There are three ways to get to Puerto Jiménez, the old gold rush city several miles up the coast from the Blue Osa Retreat Center. I elected the cheapest option, a fifteen dollar, eight-hour bus ride leaving from San José's MEPE Bus Station. The bus station is small and clandestine, and many of the country's cab drivers don't know where it is.  Some degree of Spanish is recommended for anyone planning on traveling this way. There's also the option of taking a small charter plane from San José, around fifty U.S., or renting a car. If you do end up getting a rental, four-wheel drive is pretty much a requirement given the condition of some of the country's back roads.
The founder of the Blue Osa Retreat Center is distinguished yogi, Aaron. He's been a prominent figure in the realm of yoga after becoming an overnight sensation in New York City back in the early 2000's. He is best known for his passionate take on yoga, and natural interpretation of the yoga lifestyle.  Yogi Aaron has dedicated his life to enlightening himself and those around him primarily by traveling the world, and working with some of the most highly regarded yogis in the world.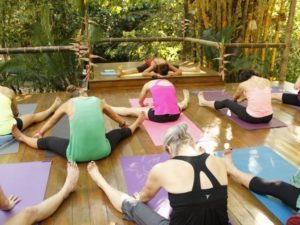 According to Aaron, like many people in his line of work, yoga chose him and not the other way around. Born in the 70's in British Columbia, Aaron had an adverse childhood and attended a strict boarding school education. He found at a young age that the best way to discover his inner nature was to literally go out into nature, the unchartered Canadian wilderness. It was in this hermetic place beyond the pines that Aaron's transformation into the skilled yoga teacher and international retreat leader he is today took place. It was here that Aaron's love for those few remaining remote places developed, he felt as though man had lost touch with himself in the rat race.  Venturing out into the alien, unmapped world was a great way to reconnect with the Earth and oneself. This was the mindset Aaron had when he set out to create the Blue Osa Retreat Center. He built his new home in a place once called one of the most biologically diverse locations in the world by National Geographic, Costa Rica's Osa Peninsula.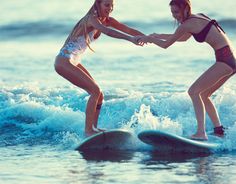 For a reasonable price of 25 U.S. each way, Blue Osa will send a driver to pick you up from the bus station in Puerto Jiménez, about thirty minutes from the retreat center. An aged, humble, Mesoamerican town that was in it's prime in the 1960s. Back then, people traveled from around the world to search for gold in the rivers of Corcovado, or seek out work in the logging industry. Eventually the Costa Rican government got involved, and declared the jungle a national park to preserve the potpourri of flora and fauna that live there.  
Upon arriving at the Blue Osa Retreat Center I was introduced to the lodge's cordial manager, Michael, who was quick to offer my some fresh fruit and coffee while we toured the grounds. The communal dining area was our first stop, a grandiose open room with ample space for the retreat center's guests to relax and eat some of Blue Osa's delicious cuisine. All of the furniture is beautifully hand-crafted, and perfectly captures the feelings of comfort and tranquility that one would hope to connect to during a yoga retreat. There are a plethora of coffee table books detailing the history, and ecological diversity of the Osa. There's also coffee on tap throughout the day.  In a country known for bold brews, Blue Osa provides a delectable flavor that any coffee enthusiast is likely to enjoy!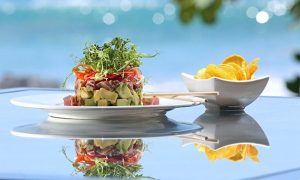 Michael introduced me to the kitchen staff, including head chef, Jose, who has been working with Aaron since the earliest stages of Blue Osa's construction. I'd come to know him for his savory and traditional Costa Rican meals, including tres leches, a delicious custard-esque dessert adored by locals and tourists, or one of his many pescado based dishes. The majority of the plates served at the Blue Osa Retreat Center were developed in the mind of Marie, Blue Osa's "kitchen mother", who was an original owner of the property. Marie has a deep background in the service industry, and is a culinary genius. Health and any dietary restrictions of Blue Osa's patrons are a top priority for the entire kitchen staff, so vegetarian or vegan alternatives are common. It's also a literal farm-to-table experience as Blue Osa's organic garden is right across the street.
As we continued to stroll down the gravel paths, now accompanied by both Michael and an equally amiable feline tour guide, it became evident just how close the retreat center is to the beach. The long stretches of coastline make for a great place to go for a run, lay out, or witness the sunrise. Blue Osa provides chairs and towels to take with you down to the water, and given how hot it can get in the Southern parts of the country, you'll more than likely want to take a dip. If salt water isn't your thing, Blue Osa has a beautiful chlorine-free lap pool complete with a lounge area to relax at.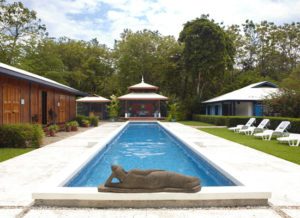 Besides the kitchen staff, Blue Osa is home to a variety of healers from different walks of life who have come to Costa Rica to learn from Aaron.  They are dedicated to teaching the values of yoga and the holistic practices that come with it, to all those who visit this mystical retreat center. When you're not stretching out in the studio, the Blue Osa Retreat Center has teamed up with several local businesses in order to offer an immense variety of other activities, such as jungle exploration walkabouts, mangrove forest kayaking trips, and chocolate farm tours. During my stay I got the chance to go on the Matapalo hike in the nearby jungle alongside several of the other guests. Our tour guide was incredibly knowledgeable about the plethora of animals and plants we saw including: spider monkeys, scarlet macaw, king vultures, corcovado black hawks, coati, howler monkeys, strangler trees, and Costa Rica's national tree, the towering Guanacaste.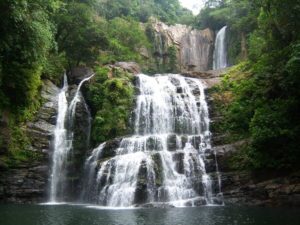 One of the guide companies that Blue Osa has teamed up with offers a particularly life changing adventure (as if the rest of their services weren't amazing enough). For a reasonable price, a charter plane will fly you and your companions into Corcovado National Park. The Park is home to over five different types of ecosystems, from the clandestine canopy teeming with monkeys, to the eerie cloud forests, and sandy coasts. Corcovado is also home to all four species of Costa Rican monkey, including the critically endangered red squirrel monkey which exists nowhere else in the world. The Park has been called one of the best jungle based hikes in the world, and if you plan on hiking there are several ranger stations at which you can camp out at.
My stay at the Blue Osa Retreat Center was one of the most enchanting experiences of my life.  It enabled me to learn not only about the wonders of Southern Costa Rica, but also those that lie within my own mind. Yoga is treated as so much more than just an hourly escape from the stresses of contemporary life. It's a lifestyle, one that patrons will learn about through sun salutations, fire ceremonies, group workout sessions, and the bliss of one another's company.
Click here for upcoming retreats at Blue Osa.
Follow Yogi Aaron on Instagram and Facebook.
Written by  Aidan McMorrow