Montezuma is a cozy picturesque town in Costa Rica, known for its bohemian atmosphere and the great scenic beauty of its beaches, rivers and waterfalls. With its landscape of tropical paradise, Montezuma is a perfect destination for all those who love beaches and nature. The small village is surrounded by tree-lined slopes, where flowing rivers form waterfalls and natural pools.
Montezuma waterfalls
TIP: Get updates on upcoming Costa Rican Retreats & Events by joining our newsletter. Don't miss out on what's happening around you! Click here.
Montezuma Waterfalls is one of the most famous waterfalls in Costa Rica. They consist of three separate waterfalls, and are located not far from the small town of Montezuma.   The highest and most beautiful of the waterfalls tumbles from a height of 24 meters, and feeds a large pool which is great for swimming.  Be careful however not to dive or jump off the rocks as there is the danger of hitting underwater stones.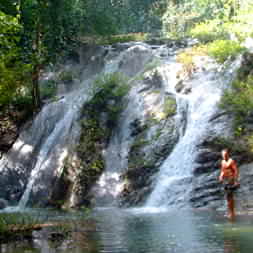 The waterfall is a 20-minute hike from the village center.  There are two ways to reach the waterfalls.  The first is free if you come in from below, but it is difficult to reach the other falls this way.  The second option costs c2,000 to reach the falls from above.  From the junction, go to a location that says 'canopy'.  Here you pay the entrance fee, and you will receive a map to reach the falls.  This route will take you over some hanging bridges and along several trails.
This is certainly one of the beautiful stops in Montezuma, as it is one of the ideal places to be in harmony with the environment.
Cabuya Island
If you are in Montezuma or Santa Teresa, this is a place you must visit. Cabuya Island is just 7 km from Montezuma, and is only accessible by foot at low tide.  Follow along a path for 200 meters, and you will reach the island.  From there you can wander through the village cemetery, and enjoy the ocean views.  If you go in the afternoon, you can buy fresh fish from the local fishermen returning from their fishing trips.  It is important that you pay attention to the tides though as you will be stranded once the tide returns, and the only way off the island is by boat.  There is no charge for visiting the island.
Mariposario Butterfly Garden
For those who love nature and are not used to seeing so many butterflies fluttering around you, it is a fantastic experience. The ticket price is totally affordable, and a great opportunity to learn more about this beautiful creatures.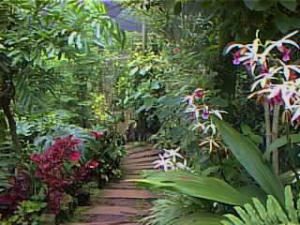 The butterfly garden is absolutely overflowing in wildlife, with butterflies flitting around and even chasing each other.  This place is highly recommended for anyone interested in biology, butterflies, beauty, and nature.  The volunteers will show you the caterpillar laboratory where they are breeding butterflies, and will go through the whole life cycle with you.
You can also volunteer here, so is a great place for a long visit or just a day excursion.
Romelia National Wildlife Refuge
The Refuge is one of the most recommended places if you want to stay in contact with nature, and get some time to meditate or getting relaxed.  It is so rustic and magical there. You can walk down the path and you are at the beach.   If you are looking for a place to relax, imagine sitting by the ocean for hours on a nearly deserted beach.  How often do you get to enjoy a day like that?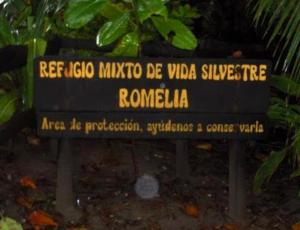 If you go in the turtle season it's amazing.  You will surely never forget the experience of watching the mother lay her eggs, or when the hatchlings are released into the waves.  If you volunteer at the Refugee, you can go out with the field-coordinators and take part in several beach patrols, beach cleaning, or do some work on the mammal research in the rainforest. At night you can hear the sounds of the ocean, as well as the wide variety of birds and other species around. The howler monkeys make sure you wake up early so you can enjoy a delicious breakfast made by the host family.
If you want to calm down and find your inner peace, this is the place for you.  Don't forget to bring your camera to share the experience of this remote paradise.
Montezuma Beach
A beautiful beach near the village with warm waters and trees providing shade, all with sparkling sunshine, warm sand, and a very friendly atmosphere.  At this beach it is permitted to drive your vehicle close by, and is ideal for relaxing picnics. Don't forget your hammock for a good nap as you can spend hours practically alone in the place.  It is an ideal place to spend the afternoon reading, dive into the warm waters, or just sleep and rest awhile.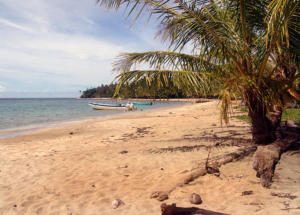 Montezuma is not an easy place to reach, but offers such beauty and relaxation when you get there.  Well worth the trip.