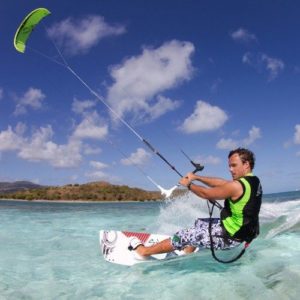 Recreo Resort, located on Bolanos Bay on the northwest Pacific coast, province of Guanacaste, Costa Rica, is home to the annual renewal of "Windy Passions." For those yearning for a combination of ocean and lake kiting, this exciting two week program takes advantage of the strong seasonal winds of Bahia Salinas and Lake Arenal during the February 20 – March 6 period. Based at the ecologically sensitive resort which features 8 private, secluded villas each varying in size with between 1 and 5 bedrooms or suites for a total of 25 bedrooms with bathrooms; all villas have balconies and a private infinity or plunge pool.
A dedicated chef prepares 3 customized meals or takeaway snacks a day in the full kitchen of the villa and daily housekeeper service is included. The Windwing Kite Event takes place on two consecutive weeks (7/8 nights and costs $1,620 per person for week one; $1,980 per person for week two or $3,150 to combine both weeks plus tax). The program includes all meals and use with training on the latest Windwing gear by their expert team of professional instructors; beginners are welcome.
Non-kiting guests receive a discounted rate. Recreo is best accessed through the international airport in Liberia (about one hour's drive) or through San Jose International Airport. Inclusive transfers are by chauffeured car.
Media Contact: Angela Lehman 505-424-1351 [email protected]
www.recreocostarica.com .