by Arianna McKinney
In 2009, locals worried about droughts and water shortages because of the low amount of rainfall in the "winter" months. 2010 is proving to be just the opposite. The rainy season came fast and early this year, with above average rains starting in April.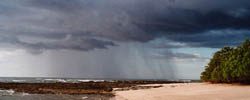 According to Evelyn Quiros Dadilla, a National Meteorology Institute of Costa Rica meteorologist, the quantity of rain this year in the Pacific region and the Central Valley is abnormal. She said the increase in precipitation this rainy season is a result of La Niña, a cooling of the surface waters of the Pacific Ocean, and the increased rain pattern is expected to continue through September and October.
According to data collected in Samara by Charlie Foerster of C&C Surf School,
Samara experienced 10 days of rain in April, compared to only three days in 2009 and zero in 2008. And the rain hasn't let up since. In fact, just about every month of 2010 has exceeded the previous two years in both quantity and days of rainfall (see infographic)
Bobbi Johnson, a Nosara resident who lives in Bosque Verde above Arenales, has been recording rainfall data in the area since 1995. According to her data, the month with the biggest contrast in rain so far in Nosara has been July. In 2009, Nosara received only 8.8 inches (22.4 cm) of rain, but this year it was inundated with 37.9 inches (83.6 cm). And the area has received an average of 12 inches (30.5 cm) of rain in July during the past 16 years, demonstrating that this year the area is getting hit much harder than normal.
Interestingly, data recorded by Johnson for Nosara shows similar results to the data collected in Samara. Last year between April and August, 63.5 inches (161.3 cm) of rain was recorded in Nosara, compared to nearly double, 123.4 inches (313.4 cm), for the same period of time this year.
For agriculture, the extra rains mean extra risk. For example, meteorologist Quiros Dadilla said that more rains are unfavorable for rice harvests. The increased rains also increase the risk for dengue and may reduce availability of potable water since flooding can contaminate water sources. "We've experienced this to a minor degree, but it hasn't been very severe yet," Quiros Dadilla said. So far, problems resulting from the rains have been localized, but the risk increases in September and October, which in Costa Rica are usually the months with the strongest rains.
As it continues to rain, it is important to maintain sewers, gutters and drainage routes clean of debris so water can flow through and to pay attention to water levels of rivers. People with properties near rivers should take precautions for possible flooding, and anyone traveling routes like the one through Esterones between Samara and Nosara should be very cautious and use good judgment when deciding whether to cross rivers.
According to an article in Al Dia newspaper, the National Emergencies Commision has declared a green alert for all of the Pacific seaboard, the northern zone and the Greater Metropolitan Area of Costa Rica and warns populations living in areas that tend to flood to remain alert.