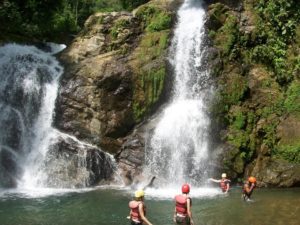 The Costa Rica News (TCRN) – The Costa Rica canton of Puriscal has committed to becoming making the canton an eco tourism destination.
TIP: Get our latest content by joining our newsletter. Don't miss out on news that matter in Costa Rica. Click here.
President Luis Guillermo Solis visited La Cangrejaat National Park in Puriscal at 8:00 am on Saturday in order to discuss the proposal with locals who want to encourage adventure tourism, eco-activities and the need to improve the road between the canton and Parrita.
Solis said it is an initiative that will be supported by the government, and asked the director of the National Roads Authority (CONAVI), Mauricio Salom, to initiate the repair process for maintenance on Route 239, which connects Puriscal with Parrita.
Salom said he has began initiated a thorough inspection on the road and will work to stabilize the slopes, repair culverts and underpasses along this strategic route.
The proposal also includes the implementation of a training plan by the National Training Institute (INA) for area youth learn technical work that can be integrated into the labor market for high-tech companies.
The project will be hosted under the Weaving Development initiative led by the Office of the First Lady, Mercedes Peñas.
Puriscal is the fourth county of the province of San José and is located west of the capital with a population of 33,000 inhabitants. (Amelia Rueda)
For more information on Costa Rica eco tours, vacations, or eco destinations, contact us!
[gravityform id="1″ name="Contact Form" title="false"]
The Costa Rica News (TCRN)
San Jose, Costa Rica