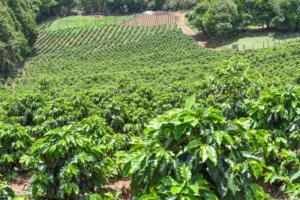 TIP: Get updates on upcoming Costa Rican Retreats & Events by joining our newsletter. Don't miss out on what's happening around you! Click here.
If you ask coffee-lovers the world over, the coffee grown in Costa Rica is prized for its richness, flavor and aroma rightfully holding its own next to the finest coffees in the world. Some have even called it simply "the perfect cup". With over 70,000 producers of coffee beans grown over 100,000 hectares, it is obvious why coffee is known locally as "grano de oro" the golden grain.
For all its importance in modern day Costa Rica, the coffee bean, itself, is an "expat" arriving in the late 1790s from Cuba. Brought to Cartago-which was the capital of Costa Rica until 1823-by Don Francisco Javier Navarro the new arrival soon spread to home gardens in and around Cartago. It wasn't until 1820, however, that the proverbial "fruit" of those first two coffee trees would begin their path from curiosity to cash crop.
The "Padre" of Costa Rican coffee, was, in fact, an actual man of the cloth. Some years previously, Father Jose (Felix) Velarde, also a resident of Cartago, took coffee seeds to San Jose. His will, dated 1816, describes the land where the coffee was planted. Local lore tells how the good Father encouraged his neighbors to take the seeds upon his passing, and, literally, to be "fruitful and multiply". This wish was honored and, in 1820, the first documented export of Costa Rican coffee-a bag weighing 100 lbs.-was shipped to Panama.
From that point on, coffee became a major crop and export of Costa Rica and an important part of the economy. Government decrees were passed exempting coffee growing from certain taxes and issuing free grants of land to establish coffee plantations. In 1832, George Stipell, a German businessman who had moved to San Jose, sent a sizable shipment of Costa Rican coffee to Chile. However, it was in 1843 when the ship Monarch dropped anchor in England with 5,505 bags of Costa Rican coffee, Europe (and the rest of the world) were given the first real taste of Pura Vida.
From its humble beginnings in the garden of a Spanish Don, the Costa Rican coffee industry has blossomed into a major economic factor for the country. The best example of this is the National Theater in San Jose whose construction was actually financed by coffee taxes. So important has coffee become that Costa Rica is the only country where a decree from the President on November 4, 1989 mandated that the Arabica bean is the only bean that can be planted and grown for coffee and all other types are banned.
Even the tax year in Costa Rica follows the coffee industry as it runs from October to September of the following year-the principal growing cycle for coffee.
The highlands of Costa Rica have been rated by many lovers of coffee as equal or superior to any in the world. Poas, Barva de Heredia, Tres Rios, and Tarrazu are all known as locations for some of the finest coffee beans anywhere; each offers a unique and flavorful blend that truly gives another dimension to the meaning of "pure living".
With the summer months upon us, there are many opportunities to take "coffee tours" of the plantations and seven different regions to choose from. If you can, visit the coffee plantations on September 12th-National Coffee Day-in Costa Rica to experience this important element of Costa Rican life. And, as you enjoy that morning cup of coffee, remember that you are also enjoying yet another special part of Pura Vida.
The Costa Rica News (TCRN)
San Jose Costa Rica