Development and Journalism Intern – Sydney R. Lawson

It's over for New Orleans Saints running back, Reggie Bush, and Hollywood socialite, Kim Kardashian.
After Reggie took home his Super Bowl victory ring, rumors were buzzing that Kim would finally get her engagement ring .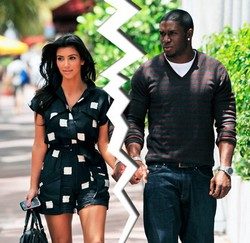 The hot former couple was even spotting taking a romantic vacation in Costa Rica earlier this month. They reportedly stayed at the Four Season Resort at Peninsula Papagayo.
Despite money, success and insanely good looks for both of these young celebrities, Kim and Reggie ended their three-year relationship. Supposedly, Reggie is a bit camera shy and cannot handle Kim always being in the spotlight for the hit reality show "Keeping Up with the Kardashians."
And of course, there are cheating allegations. Reggie is said to be having an affair with a cute, blonde waitress in Hollywood by the name of January Gessert. There are photos of her where she is appearing to do the "Walk of Shame" from Reggie's house.
Poor Kim. Her younger sister Khloe (25) just wed Los Angeles Lakers forward, Lamar Odom, and her older sister Kourtney (30) just gave birth to a baby boy. Why must the middle child always be left out?
Regardless, we are not worried about Kim. She is gorgeous and with a butt bigger than J-Lo's she is sure to snatch any guy she wants. Just a word of advice for Kim, stay away from 20-something athletes who have access to women of any kind, anywhere, anytime.