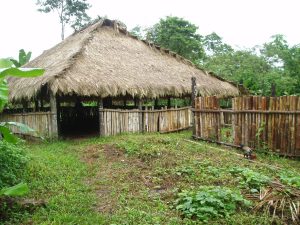 In February the Talamancan Association of Eco-tourism and Conservation (ATEC) raised over $2,000 from local and international businesses and individuals to build an aqueduct in the Alta Talamanca community of Coroma. This aqueduct will supply water for a primary school, a high school, a clinic, and a police station. Although the community has been promised a water system by the AyA (the government water agency), eight years have gone by without any action by the agency. The Costa Rican Ministry of Health will shut down the schools if they cannot get running water. This aqueduct will be a temporary solution until the AyA builds a full-scale system.
Unfortunately, due to an error in the price quote ATEC got from the hardware store, the money raised was not sufficient to buy all the pipe necessary to bring the water from nearly three kilometers away. Former local legislator and current president of ATEC, Edwin Patterson, is working with contacts in the Rural Aqueduct Program of the AyA to see if it is possible to get the pipe donated. Cement and other supplies have already been bought with the donations so work can begin on the foundations necessary to lay the pipe.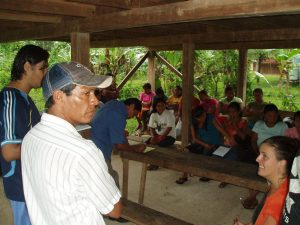 ATEC was alerted to the the need for this project by one of its guides, Zenón Villaneuva, a resident of Coroma. Villanueva guides a multi-day transcontinental trek for highly adventurous hikers. Also involved with this project is Dr. Efrain Retana, who provides medical care at the clinic one day a week.
Coroma
According to Villanueva, Coroma is home to about 2,000 people. It is located far up in the foothills of the Talamanca Range that divides the Pacific and Caribbean slopes of Costa Rica, and is not reachable by road. All the residents of the community are from the Bri Bri indigenous tribe, with the exception of Villanueva, who is from the Cabécar tribe. There are 40 students in the high school and 25 in the primary school.
The BriBri and Cabécar peoples
These two tribes have traditionally lived in the Talamanca region without conflict with one another. Although they speak different languages each can be understood by the other. They don't live in villages, but in individual family homes separated by at least 100 meters in most cases.
ATEC
ATEC is a non-profit association located in Puerto Viejo that offers tours with more than 80 local guides and is involved with sustainable development.
ATEC would like to thank those who have generously donated to this project:
www.ecoaventura.co.cr
www.cashewhilllodge.co.cr
www.bananaazul.com
www.kayasplace.com
www.congo-bongo.com
www.pachamamacaribe.com
www.tierradesuenoslodge.com
Finca La Isla Botanical Garden (www.costaricacaribbean.com)
www.geckoeslodge.com
www.beachchikdesigns.com
www.puertoviejosatellite.com
www.greencoast.com
the Pura Vida Project
Neighbors from Bordon
The families: Hedges, Ohrt, Jordon, Blanco, Huntly, Kramer, Montgomery, Hudson, Heffner, Mader, Meixner, Dowell, Ansel, Ripley, Carlson, Sarah, Sam and Ben, and anonymous.
And thanks to the following for donating supplies:
The Boy Scouts of Canada, Mitzi's effors at UGA, University of Kansas, and other folks who have dropped off contributions at ATEC with out recognition.
Contact ATEC:
Alaine Berg: [email protected]
www.ateccr.org
Information about the transcontinental hike:
http://www.ateccr.org/index.php/tours/description/transcontinental_hike/