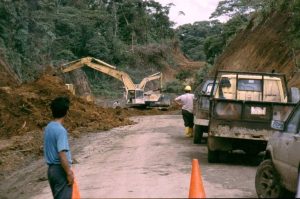 After 43 years of the road to San Carlos seems to be finally coming to an end, as the Ministry of Public Works and Transport (MOPT) announced that next May they would be taking the bid to build the northern end of the route.
Road infrastructure is one of the most corrupt, and protested of the government monopolies. CONAVI, is continuously under investigation and indictment, and the governments solution for its own dysfunctional entity is to outsource to other countries which inevitably ends in indictments of corruption as well.
José Chacón Laurito, Deputy Minister of Infrastructure of the Ministry of Public Works and Transport, said the tender is for the design and construction of the northern end.
To complete the project the Ministry of Public Works and Transport still must submit an addendum to finance the work of the "north end", which is in process.
"It is true that in order to finish the project an addendum in the amount of approximately $ 40 million is required and is in the process of preparing the document and bring it soon to the Comptroller General of the Republic," said the Deputy Minister Infrastructure.
As usual there will be delays as the MOPT Infrastructure Minister said that as a matter for the Punta Sur (Siphon-Naranjo Bernardo Soto Highway), is delayed.
"The southern point has to be the subject of a design, and the Ministry of Public Works and Transport made the decision to be constructed by the broker Naranjo, as requested by the community of San Carlos, but it goes a bit delayed, because be built with the CONAVI road funds, "said Chacon.
According to the project report submitted by the Ministry of Public Works and Transport, the new section to San Carlos in the Section SiphonT of 4 lanes (2 each way) will be an investment of 150 million dollars, which has an advance of 73%, with earthworks completed 27.8 km of a total of 29.7 km.
The Costa Rica News (TCRN)
San Jose Costa Rica