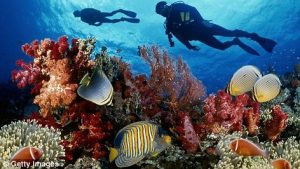 Costa Rica's majestic coral reefs, covering approximately 970 km2 of the seabed, have multiple benefits for nature but especially significant economic value.
The Interamerican Association for Environmental Defense (AIDA), , shows that 97% of coral reefs are endangered by human practices that continue to push into the marine ecosystems.
Although many do not know, numerous populations in the world live off of reef food supply but that reefs increase the gross domestic product (GDP) of a country by generating by productive activities such as tourism and fisheries.
The unit value per hectare of a reef is about more than 1,000,000 dollars, which to Costa Rica this represents up to $ 582 million to the national economy.
Fishing, tourism, as well as the discovery of new medicine are a couple of the many benefits of coral reefs but they also mitigate the impact of climate change.
In the United States it is estimated that half of the fishing industry depends on this resource at some stage of their life cycle, representing a market value of the reefs over 100 million dollars and the Caribbean reefs generates 300 billion dollars annually.
Only one square kilometer reef that is in perfect condition, can meet protein needs of more than 300 people and can provide 10% of world production with sustainable marine protein.
In our country there is no estimate of how many coastal communities depend directly on these amazing marine bio densities as a source of food, but AIDA says that just such an example of the economic benefits they provide is more than clear the need for its conservation and protection.
Interesting to note is the fact that coral reefs protect coastal cities and communities from storms, hurricanes and tsunamis because the body absorbs 90% the impact of the waves mitigating impact.
In Costa Rica, tourists visiting areas such as the Cahuita National Park get to enjoy the coral reef and this industry could provide up to $ 1.2 million annually but if they are not protected coral tourism could disappear too.
In Costa Rica, it is estimated that more than 100,000 different species including sea turtles, sharks, lobsters, marine sponges and many fish species live in the coral reefs.
The Costa Rica News (TCRN)
San Jose Costa Rica