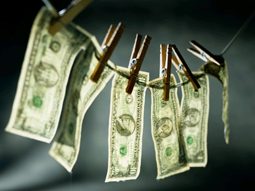 by TCRN Staff
The authorities Wednesday broke up a Colombian drug money laundering network which, according to reports from the OIJ, the Drug Control Police (PCD), was composed of Colombians and Costa Ricans, that "laundered millions of dollars" in the past two years.
TIP: Get our latest content by joining our newsletter. Don't miss out on news that matter in Costa Rica. Click here.
The network was "the financial arm" of a powerful drug mafia organization, led by Colombian Silvio Vergara Montaño, arrested earlier on January 26 in Cali, Colombia and had created around a 100 companies with which they bought and sold property, including cars and houses in different parts of the country.
The Colombian police said that Montano was an important link del Valle cartel in Costa Rica for smuggling large shipments of cocaine. Toward that end they dad acquired property, including a 10,000 m² in Tárcoles Guacalillo beach, Puntarenas, which was raided yesterday by the PCD.
The police believes that siphoning off 10 to 12 tons of cocaine a month, using Costa Rica as a transit area and warehouse.